Ashes 2013: Australia deserve credit - Alec Stewart column

By Alec Stewart
Ex-England captain & Test Match Special summariser
Last updated on .From the section Cricket200
Australia deserve great credit for bouncing back from the thrashing they took at Lord's to perform so well at Old Trafford.
They were led from the front by captain Michael Clarke's superb 187 and some excellent bowling from their seamers. If the rain had not come to England's aid on Monday, they would have had a great chance of getting back to 2-1 in the Ashes series with two to play.
Clarke and his squad will be bitterly disappointed to have been thwarted by the weather and must now pick themselves up for the rest of the tour in the knowledge that the Ashes have gone.
Having played in seven Ashes series defeats, I know only too well the pain they must be feeling, but I also know that they will not have any problem getting motivated for the two remaining Tests in the series.
This is international cricket, and individually and collectively you want to perform every time you pull on your country's shirt.
There should not be an individual in that Australian dressing room who is thinking the series is over and, if there is, they should pack their suitcases and go home. If you have to motivate individuals to play for their country, you have got the wrong individuals playing.
Australia cannot win the Ashes but they still have a chance to square the series up at two-all by winning at Chester-le-Street and The Oval. That has to be their target.
They should break it down, bill it as a two-Test series and give it their all to win that contest within a contest.
They should also be thinking ahead to the chance for revenge in the return series down under this winter and the importance of building up momentum and confidence.
Individually, they should be looking to put in performances that will secure them a place in the team for the first Test at the Gabba in November.
To that end, two players who really enhanced their reputations at Old Trafford were Chris Rogers and Steve Smith.
After two failures at Lord's, Rogers set the tourists on the path to a big total with his positive 84 on the first day.
Smith, meanwhile, is probably the surprise package of the series and his fine 89 in a partnership of 214 with Clarke underlined just how well he has taken to Test cricket.
All in all, Australia can take plenty of positives from their performance at Old Trafford after being written off in many quarters after Lord's. Their challenge now is to prove that Manchester wasn't just a one-off and to hit England hard in Durham on Friday.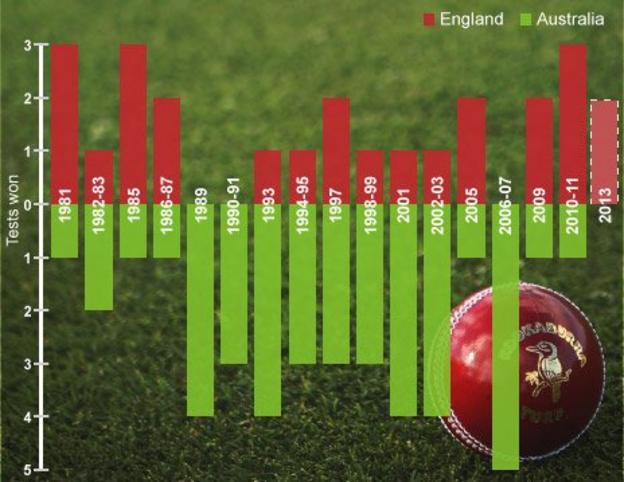 The one area in which Australia are still lagging well behind England is spin bowling.
Nathan Lyon is an experienced Test bowler with a decent record, who offered the tourists more control than Ashton Agar had in the first two Tests.
He bowled some good deliveries on a helpful surface, but still didn't look anything like the wicket-taking threat that Graeme Swann has been all series.
England's off-spinner took six wickets at Old Trafford to take his tally for the series to 19, and 29 in his last four Tests when you include his 10-wicket haul against New Zealand at Headingley.
He is a world-class performer at the peak of his powers who can take wickets at any time on any surface.
For years, the dominant spin bowler in the Ashes was Australian legend Shane Warne. It's great, in this era of English Ashes supremacy, to see one of our spinners having such an influence on the destination of the urn.