Kent: Property deal will reduce debts - Jamie Clifford
Last updated on .From the section Cricket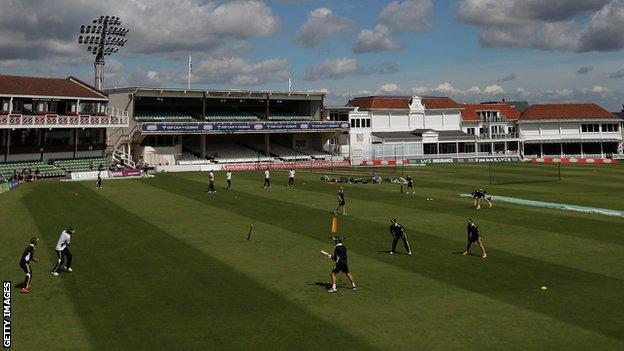 Kent chief executive Jamie Clifford says a deal with developers McCarthy & Stone will help reduce their debts.
He told BBC Radio Kent: "The sale on a long lease is agreed and we now go through the process of trying to secure planning permission.
"I think they will provide the club with something on the ground that will stand the test of time."
He added: "It is probably the most important piece of the jigsaw. It is not the final bit as we need to make the finances work day-to-day.
"It makes a big difference and subject to planning, it will happen."
The retirement homes will be built on the Old Dover Road side of the St Lawrence Ground in an area which was previously mooted for a hotel.
Clifford says the agreement will decrease the levels of debt which they have incurred as they look to redevelop the ground and also help protect the long-term financial future of the club.
"We had three key areas of the ground we needed to sell to fund the redevelopment," he explained.
"There were two sites for housing which we sold three years ago and then the hotel site, which we needed to complete the funding jigsaw.
"We have been left with debt we had taken on through that period. We felt it was important, if we were to get the redevelopment done, that we didn't lose momentum.
"We borrowed some money to make it happen and this will allow us to reduce that debt level, which in turn reduces our interest on that borrowing.
"We do all these things to make sure there is money in the budget to recruit the players, coaches and staff we need.
"We will still have debt at the end of it. But we will be back to the level we always envisaged would be manageable.
"What debt is left is on a 30-year dear with low, fixed interest rates."
Having previously had ideas to build a hotel at Canterbury, Clifford says the county have had to modify their plans.
"It's been a long story," he said. "In 2004 we first suggested the club might develop a hotel on the ground.
"In 2007 we put a planning application in to develop the Old Dover Road side of the ground and worked towards getting approval.
"We have worked with several potential partners and have marketed the site as a potential hotel for about six years. Having gone to extreme lengths with an international marketing agency, we couldn't find a developer.
"Having reached that point we realised we needed to change direction and look at different alternatives."