Monty Panesar: Essex sign Sussex spinner until end of season
Last updated on .From the section Cricket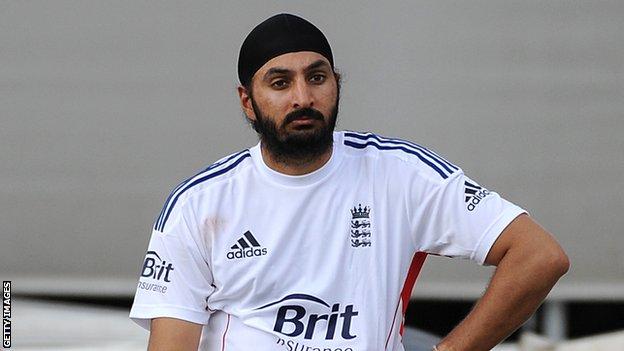 Essex have signed Sussex and England spinner Monty Panesar on loan until the the end of the season.
Sussex announced earlier on Monday he will leave the club on 27 September.
Panesar, 31, was the subject of an internal club investigation after being fined by police for urinating on nightclub bouncers earlier this month.
"Monty is a world-class spinner and we are confident he will have a positive impact for the remainder of the season," said Essex coach Paul Grayson.
Panesar is expected to make his debut against former club Northants in the County Championship on Tuesday.
Earlier, he issued a statement in which he apologised for letting Sussex, his teammates and their supporters down.
The slow left-armer continued: "I have endured a challenging time this year off the field and my frustrations have sometimes got the better of me professionally.
"I have re-engaged with Neil Burns at London County Mentoring, to help to develop my cricket further.
"I feel that Neil, along with a trusted support structure in place around me will help me put my personal and professional problems behind me and enable me to put all my energies and focus into the game and a new club."
Panesar, who has 48 Test caps, had two years remaining on his Sussex contract, but will become a free agent at the end of the season.
He became an instant cult hero in 2006 when India's Sachin Tendulkar became his first Test victim during his debut appearance in Nagpur and was an England regular for the next three years before Graeme Swann established himself as the team's first-choice spinner.
Panesar joined Sussex from Northants ahead of the 2010 season after losing his central contract and after taking 121 first-class wickets in his first two seasons for the club, he returned to the England Test team in January 2012.
He was awarded an incremental contract earlier this year, but although he was included in the squad for third Ashes Test against Australia at Old Trafford, he did not feature in the final XI and was omitted for the following game.
Following the nightclub incident, Lancashire's uncapped left-armer Simon Kerrigan has been preferred as the second spinner in the squad for the fifth Test at The Oval.
However, Panesar is determined to return to the England fold in time for the Ashes in Australia this winter.
"I want to give myself the best chance of playing all forms of the game at the highest level," he said.
"I am determined to do whatever it takes to gain selection for England this winter. I want to become the best I can be.
"I believe that if I maintain the bowling progress I have made in recent weeks which enabled me to be selected for the Test squad at Old Trafford, I can fulfil my long-held ambition of becoming the best spin bowler in the world, over time."
Sussex chief executive Zac Toumazi said he hoped Panesar would be able to re-establish himself by playing regularly elsewhere.
"Clearly this season has been a very difficult time for Monty. This will give him every opportunity to put his personal and professional life back on track," he added.