Ravi Bopara: Essex have addressed over rate issues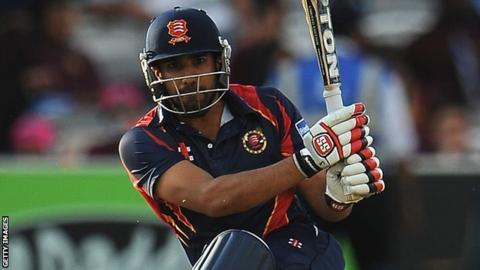 Ravi Bopara has said Essex have addressed their problems with a slow over rate in time for Thursday's FLt20 quarter-final against Nottinghamshire.
The Chelmsford club have received penalties totalling 18 runs in games against Sussex and Hampshire this term.
"We've addressed that problem," the all-rounder told BBC Essex. "We thought it was a one-off against Sussex.
"It's not going to happen again. If it does it's criminal and we will need to be dealt with."
Essex were able to despite a 12-run penalty for a slow over rate.
And Paul Grayson's side were issued a costly six-run penalty two weeks ago in
Despite a South Group campaign that included Essex's lowest ever T20 total - 74 against Middlesex - they edged through to the last eight, but will need to win an away quarter-final for the first time to progress to finals day.
"Those sorts of things are there to be broken," said England all-rounder Bopara.
"We're confident going in against anyone in the quarter-finals.
"We've come through a very tough group. I'm really backing ourselves to come through."
has restricted Bopara to just batting for the past month and, while the 28-year-old expects to be bowling within three weeks, he has been contributing in a new role in the field.
"I find fielding very boring if I'm not getting a chance to bowl," said Bopara, who hit an unbeaten 115 in a YB40 victory against Surrey on Friday.
"One of the things that is keeping me going out there is having the responsibility of helping the bowlers with fields and stuff.
"I think we've been guilty of some bad fields in the T20 at times, looked a bit ragged. So I've taken on a bit more responsibility, because we know what bowlers are like, they're good but they've got no brains."