Kevin Pietersen: ECB wants apology over bat cheating claims
Last updated on .From the section Cricket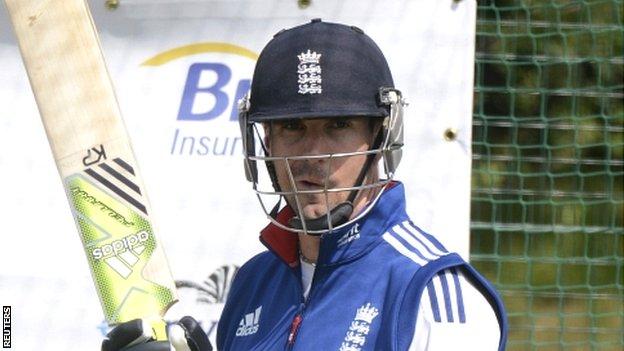 The England and Wales Cricket Board has requested an apology from Channel Nine over allegations that Kevin Pietersen "cheated" during the Ashes.
England batsman Pietersen, the only player named, denied what he called "hurtful lies".
A Channel Nine spokesperson said: "We are not commenting at this stage."
Both teams will meet with International Cricket Council general manager Geoff Allardice before the fourth Test at Chester-le-Street, which starts on Friday.
But the governing body insisted those involved will discuss the controversial decision review system rather than the alleged use of silicone tape on bats, which is within the laws of the game.
"These media reports are totally incorrect," said ICC chief executive Dave Richardson.
"Geoff Allardice is meeting with both teams and umpires to see how we can best use the DRS and the available technology. It has nothing to do with any players."
Former England seamer Matthew Hoggard criticised the claims, telling BBC Sport: "You can't just accuse one person of cheating.
"It's not even against the rules. You're allowed to put silicone tape on you bat if you want to, but I don't think the batters are."
Meanwhile former England captain Michael Vaughan has called for Hot Spot to be removed from the DRS process.
"I think the players are starting to get really annoyed that we are talking too much about the technology side of things," he told BBC Radio 5 live.
"DRS is excellent for the game, it's moved it on, but unfortunately Hot Spot has been proved in this series that it is not good enough. It's not getting enough of the snicks right, and for that reason I would get rid of Hot Spot because that is where all of the confusion is coming from.
"It will probably be used for the remaining two Test matches at Durham and The Oval, but everyone has lost trust in it.
"The players have, the umpires have, the third umpire has, fans have, the commentators have. Nobody who watches the games trusts Hot Spot anymore and if you look back to the last Test match, the umpire hardly used it. If they possibly could, I'd get rid of it straight away."