Gareth Batty: Surrey captain to miss FLt20 finals day
Last updated on .From the section Cricket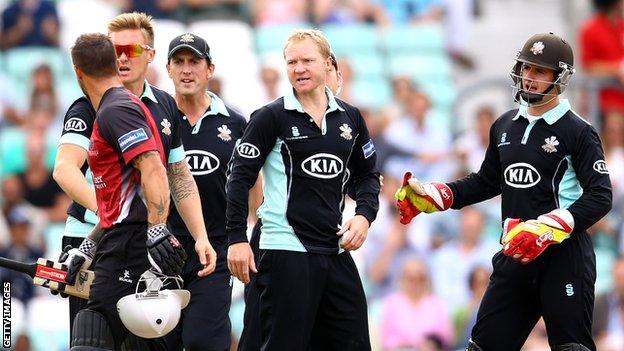 Surrey captain Gareth Batty has been ruled out of FLt20 finals day after receiving a two-game suspension from the England & Wales Cricket Board.
Batty was reported for a confrontation with Somerset batsman Peter Trego.
The spinner has been an ever-present for Surrey in this season's competition, taking nine wickets.
After video footage was reviewed, Batty received penalty points for twice breaching the ECB's directives.
The first for "inappropriate and deliberate physical contact between players in the course of play" and the second for "using language or a gesture that is obscene or of a serious insulting nature".
Gerard Elias QC, chairman of the ECB Cricket Discipline Commission, said they expect players to "have regard to the image of the game and their place as role models".
"Gareth Batty was not merely a player but was the Surrey captain," Elias said. "His conduct as such was appalling.
"Not only was he involved in deliberately and inappropriately physically confronting a batsman he had just dismissed, he subsequently engaged in a foul-mouthed tirade at the batsman.
"Plainly, he acted contrary to the spirit of the game and in a way which brings cricket into disrepute and failed to set the leadership example expected."
The penalty will remain on Batty's record for two years.
"It is a decision the ECB have come to," Surrey executive director Alec Stewart told BBC Radio 5 live.
"We have to accept it regardless of our thoughts and will have to prepare for the Twenty20 final without him."
Meanwhile, Somerset batsman Craig Kiewswetter has received a penalty after being reported for a Level One breach of the ECB's code.
The 25-year-old was reported for using language that is obscene, offensive or insulting and/or making an obscene gesture during the defeat to Surrey at the Oval on Tuesday and has received a reprimand.