DRS: Umpires 'need extra training' with decision review system
By Sam Sheringham
BBC Sport at Chester-le-Street
Last updated on .From the section Cricket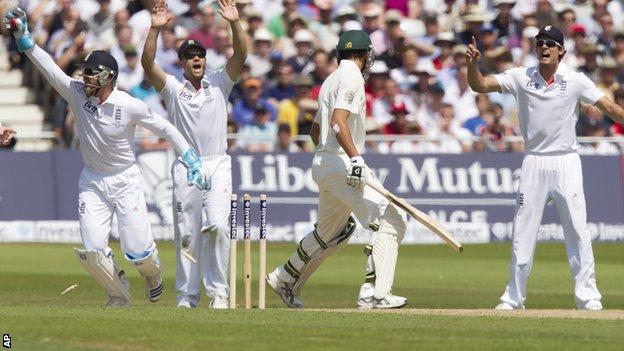 Former Test umpire John Holder says television officials need extra training in a bid to eradicate the errors that have blighted the Ashes.
Holder believes third umpires are too reluctant to overturn their on-field colleagues' decisions and has called on the International Cricket Council to act.
"What has happened this summer hasn't been good for the game," Holder, who officiated in 11 Tests between 1988 and 2001 and was assessing umpires until 2011, told BBC Sport.
"There has been so much controversy during this series that I would be very surprised if the ICC didn't try to do something to try to eliminate that sort of controversy."
Holder cited the stumping of England batsman Ian Bell in the Champions Trophy final, the decision not to give Australia's Ashton Agar out stumped in the first Ashes Test and the dismissal of the tourists' Usman Khawaja caught behind at Old Trafford as examples of mistakes by the third umpire.
"Between this series ending and the start of the next series in Australia, the ICC is going to have to get all the umpires to Dubai and get some more specialist training on the use of TV technology because those three incidents were so obviously wrong decisions by the third umpire."
The role of the television official has been made more difficult by inconsistencies in Hot Spot technology during the ongoing Ashes series, with several thin edges not showing up on infrared replays.
The England & Wales Cricket Board has demanded an apology from Australian broadcaster Channel Nine over allegations that England players were using silicone tape to prevent edges being detected on Hot Spot.
"Batsmen have always had tape on their bats to prolong a bat's life and prevent it from cracking," added Holder.
"This is the first time I've ever heard of a problem with tape connected to sharp practices. Maybe the ICC or MCC will have to look into it.
"They need to experiment with silicone tape on bats and see if it does affect Hot Spot and if so do something about it."
Holder, who played 47 first-class matches for Hampshire between 1968 and 1972, said the decision review system had made the job of an umpire harder than ever.
"You stand there in front of 20,000 people, you've made a decision in good faith and everyone can see you've got it wrong. And then all of sudden you have got to revoke the decision. That's got to be humiliating," he added.
"With the possibility of a challenge from either bowling side or fielding side, the possibility of having to revoke your decision, it has to be tougher than ever."