Ashes 2013: England collapse in fourth Test was no isolated slump

By Tom Fordyce
Chief sports writer
Last updated on .From the section Cricket158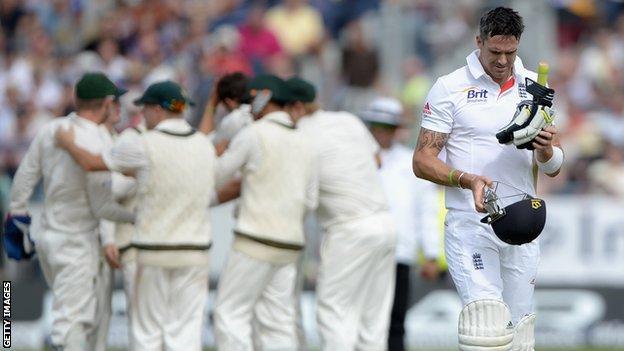 And so the fightback gathers pace.
It sounds illogical to claim that a side that have just retained the Ashes with two Tests to play have problems to solve, but England's stumble to 238-9 on the first day of this fourth Test was more than just a sixth successive ascendant day for Australia.
Once again, England's batsmen struggled badly, on a day where for much of the time the sun shone bright and the pitch misbehaved as much as a prissy school prefect.
From 149-2 they collapsed, just as in the bad old days of darkness and gnashing of teeth, to lose their next seven wickets for 65 runs.
Some got themselves out. Others got in and could then do nothing. Through it all a packed house that came to party watched it all with muted voice and heavy heart.
As always, a total needs context. The highest first-innings score in the five County Championship matches at this ground so far this season is 267.
Australia may yet endure similar problems on Saturday, and then again batting last on a deteriorating track; England may yet win this game, and with it the series in dominant style.
Equally, this was no isolated slump. In seven innings in this series so far, the hosts have not once passed 400.
You might wonder if that matters, when they won the first two Tests and held on to draw the third.
The side with the real headaches are Australia, reconciled to another series without the urn, six and a half years on from their last Ashes series win and counting. It is the tourists, not Alastair Cook's men, who were dismissed for under 300 four times in the first two Tests.
But those baggy green shortcomings, and the inspired form of Ian Bell, have helped mask the issues in the home ranks as well as propel them into an unassailable lead.
England Ashes triumphs of recent vintage have been built around big first-innings scores. Pile on the runs; pile the pressure on Aussie shoulders.
In 2005, the wins at Edgbaston and Trent Bridge came off the back of totals of 407 and 477, the so-nearly at Old Trafford from a first innings of 441.
Four years later, it was the same: 425 to set up the win at Lord's, an aggregate of over 700 runs across two innings as victory was snatched at the Oval. Down under two winters ago they batted Australia into oblivion - 517-1 at the Gabba, 620 in Adelaide, 513 at the MCG, 644 in Sydney.
Not this time.
In that last series Alastair Cook plundered his record-breaking 766 runs at an average of 127, Jonathan Trott a similarly pivotal 445 runs at 89. This summer, Cook averages 28, Trott 24.
They are not alone. Jonny Bairstow, lost down the order and beset by self-doubt, averages 29. Matt Prior, England's player of the year, has scored a grand total of 86 runs from six innings.
Joe Root's 180 was instrumental to England's one-sided triumph at Lord's. In his six innings outside that, he averages 15, and that with the assistance of a not out.
Even Kevin Pietersen, scorer of that first-innings ton at Old Trafford, is going along at a mere 33. With the exception of Bell, English batsmen have made only two scores over 67 in the entire series.
Neither are they being undone by fiendish bowling. Australia's attack on Friday nagged effectively, kept it tight when little happened and cashed in when it did. But too often England gave them the sort of generous assistance that could haunt them as effectively as the ghosts of the adjacent Lumley Castle have Shane Watson.
When you are out of form, you graft. Cook did precisely that, yet in his obduracy revealed much about his current tribulations.
In the first 12 balls he faced, he played a shot only against the 12th; the 21 runs he scored in the stodgy morning session took him 90 balls. His eventual dismissal, playing no shot to be trapped lbw by Jackson Bird for a colourless 51 from 164 balls, was suitably anti-climactic.
Trott was for a long time Australia's great scourge. His Ashes average until this series was 86, almost double his overall Test number. For 60 balls he looked in even better shape, clipping and driving seven fours, his runs coming at three times the rate of his skipper's, only to edge an unremarkable delivery from the workmanlike Nathan Lyon onto his pad and into short leg's hands on 49.
Bell, for once, tossed his wicket away. Pietersen appeared to be attempting to do the same, only to fall to another innocuous Lyon non-turner. Bairstow, mired on 14 off 77 balls, swept wildly across the line to follow sorry suit, and on a flat pitch England were becalmed. Just five runs came in 10 overs after tea, 21 overs drifting by without a single boundary.
Neither is this a short-term malaise. From the last home Ashes series in 2009 to the 4-0 win over India in 2011 that pushed England to the top of the Test rankings, their average first-innings score was 412. In the 18 months before this Ashes series that had plummeted to 323. That England won just three of their seven series in that period was no coincidence.
Against this Australia side, this summer, they may get away with it. Whilst the two pace attacks are evenly matched, Graeme Swann's superiority over his opposite numbers has opened a gap that should not be breached. Lyon may have taken 4-42 from his 20 overs on Friday, but barely a ball spun from the straight.
This winter it might not be so straightforward. Tracks will be prepared to negate Swann's influence. Australia's own batting order might yet look settled, their bowling attack more grizzled. Even in overall superiority, England must look to improve.