Ashes 2013: Ian Bell is England's saviour in fourth Test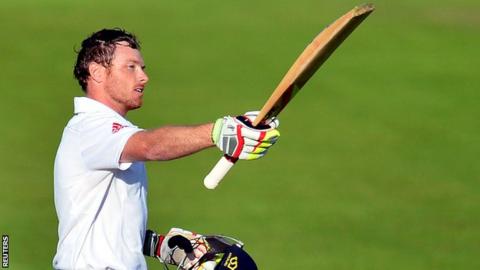 At the close of an enthralling day, one on which the momentum swung several times, it is now England who are in front in this fourth Test.
It is not only the lead, which by stumps was 202 with five wickets in hand, but it is the Riverside pitch, which is making run-scoring an increasingly testing occupation.
There is no great deterioration there, no great turn as we saw at Trent Bridge and Lord's. That does not tend to happen here.
Instead, the ball is keeping low, hitting the bottom of the bat, coming on slowly and offering insufficient pace for batsmen to play attacking shots.
First, you have to get through the new ball. Under the heavy clouds, we have seen it tends to swing about ferociously.
Normally a batsman's task becomes easier as the shine wears away. Not here. The softer ball comes off this track even more slowly.
It is not a great pitch. While no-one wants to see a featherbed with endless runs racked up, batsmen need to be able to play shots once the ball gets older.
The one player who has had no problem doing that, once again, is Ian Bell. He has had a magnificent series, not only for the tally of runs he has scored but when he has scored them.
We are all familiar with the old theory that Bell only scored runs when his team-mates had done the same. Not any more.
In this series he has done the opposite: come in with his team in trouble, as they have been in almost every innings, and rescued them with the sort of calm, poised performances that denote a player of the highest standard.
England were effectively 17-3 when he arrived at the crease on Sunday, Ryan Harris having seen off both openers and Jonathan Trott with a splendid spell of muscular pace bowling.
Bell played beautifully from that moment on. He was unflustered; he was in control. That late cut of his behind point is a hard enough shot to play at the best of times, but on this pitch it takes timing that very few possess.
At 31, Bell is now putting all his experience to the fore. He is a high-quality batsman dealing with the most demanding of situations and coming out on top. Along with Graeme Swann, he has been England's pivotal player in this Ashes series.
Kevin Pietersen also played well in making 44. This is not his sort of pitch, and he could not play his normal game, but he batted sensibly and within the conditions to help Bell add 109 for the fourth wicket.
There will be those who criticise him for his eventual departure, getting a leading edge when trying to turn Nathan Lyon to the leg side, but even that was a result of the slow pitch.
There will also be those who look at Joe Root's dismissal for just two as another example of his frailties against the new ball.
He does have issues to confront: he has a tendency to hang back at the crease, and that is why he has been caught behind and in the slips so often in this series.
But Harris produced one of the balls of the summer to get rid of him - full, nipping away from straight to clip the top of off stump.
We must give great credit to Harris. We always knew that he was potentially a very good Test performer - his display at Perth in the preceding Ashes series told us that. But he is now staying fit and playing consecutive games, and getting the reward his talents deserve.
He does not have a pretty action - and he is not a pretty bowler. But he runs in hard and hits the pitch hard. He has big shoulders, bowls an excellent full length and has a nasty bouncer, as Jonathan Trott found out. In Australia this winter he will be a significant threat.
The ball he produced to see off the struggling Alastair Cook was not his best - wide of off stump, angled across - but it did not have to be.
Cook's edged drive showed he is clearly out of nick. That was an almost inexplicable shot for him to play, in the sense that there was neither reason to play it nor anything characteristic about the decision to do so.
We might be seeing the effect of the varied pressures of captaincy on Cook - not necessarily the on-field decisions, but everything that goes with it.
It can be very hard to find any time for yourself, to switch off from the responsibilities thrust upon you.
He was probably looking forward to a few days away from cricket between the third Test at Old Trafford and this one, only for all sorts of issues to jump up - Monty Panesar's problems, the accusations from Channel Nine about his side's use of tape on their bats.
He tried to be positive with the bat on Sunday. But it was a shot he should not have played, to a ball that should have been left alone. Cook will know that better than anyone else.