Ashes 2013: Ian Bell says England need lead of 300 to win Test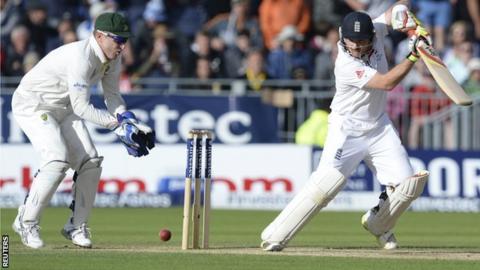 England centurion Ian Bell says his side need a lead of 300 over Australia before they can feel confident of victory in the fourth Ashes Test.
Bell hit a brilliant unbeaten 105 to steer the hosts from 49-3 to 234-5 at stumps on day three - 202 in front.
He became only the third Englishman to score three centuries in a home Ashes.
"Those 200 runs, I'd rather have them on the board than be chasing them, but we've seen with Australia that they will go all the way," said Bell.
"That (first Test) Trent Bridge pitch didn't deteriorate like we thought, and this might be similar.
"If we start getting a lead over 300 I'll feel a little more confident, but they will keep coming at us, and some of their batsmen are in a bit of form now. It will be a scrap over the next two days."
Bell's glorious form this summer has been the perfect riposte to those who claimed he could only make runs when the pressure was off.
Centuries at Trent Bridge and Lord's set up England's two wins - and helped retain the Ashes after 14 days - and his effort at Chester-le-Street after another poor start by England's top order may yet do the same to seal the series win.
He said: "We needed someone to go out there and get some runs, and that's what I managed to do.
"I've not tried to do anything different from the New Zealand Tests but something has clicked and it's nice to go big.
"Against New Zealand I was getting starts but not really pushing on, and the best thing (batting coach) Graham Gooch said to me was not to be tempted to change anything.
"Fortunately, I've come good in the series that is the biggest one for us. It's nice to be contributing to us hopefully winning Test matches.
"I had a period against Sri Lanka and India in 2011 that felt pretty good but this is right up there for me in my career.
"The thing I've tried to do is forget the situation. I've felt in pretty good touch, and that's a nice place to be.
"I keep it simple - watch the ball, play the ball. It doesn't matter if we're 100-1 or 20-3 - it's the same game. Hopefully I can carry on on Monday morning."
Joe Root, Alastair Cook and Jonathan Trott perished cheaply to put England in trouble after their bowlers had removed the final five Australia batsmen for just 48 to bowl the tourists out for 270 - and limit their first-innings lead to 32.
And Bell is hopeful that success for the home attack can be replicated when Australia begin their run chase.
"There's some uneven bounce," said Bell. "When the ball gets soft it is harder to score. It doesn't always jag around like you think but there's always a decent delivery in there.
"The skill of Ryan Harris has been to put enough balls in the right area, and then know that one ball will bounce a little bit more or hit a crack and go sideways."
Australia fast bowler Ryan Harris, whose three wickets with the new ball reduced England to 49-3 early in the afternoon session, believes the match remains in the balance despite Bell's century.
He said: "We just need to get those wickets as early as we can in the morning and if we can bat well we can chase hopefully something from 250 to 300.
"The wicket is holding together pretty well; it's not breaking up as much as we thought, so it's pretty evenly poised."
Shane Watson limped off with a groin strain midway through bowling an over in the evening session, but Harris remained optimistic about the all-rounder's prospects of batting in the fourth innings.
"I don't think it's as bad as we first thought," he said. "They were talking about him batting, but we'll see how he pulls up in the morning and go from there.
"You never want anyone limping off and especially someone like Shane Watson, who's a pretty big player in our team."
Listen to the Test Match Special podcast as Geoffrey Boycott and Jonathan Agnew review each day's play.