Ashes 2013: Captain Alastair Cook crucial to England triumph

By Jonathan Agnew
BBC cricket correspondent
Last updated on .From the section Cricket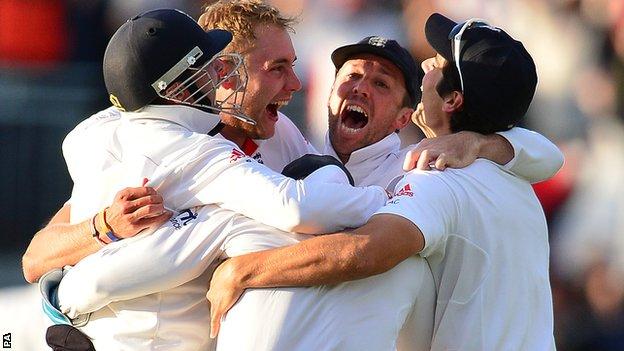 I have interviewed Alastair Cook many times over the last four years but I have never seen him buzzing in the way he was after England's Ashes-clinching victory at Chester-le-Street.
The star of England's ruthless performance in the final session of the fourth day, when they took the last eight Australian wickets for 56 runs, was Stuart Broad.
Stuart and I have had our ups and downs this series following our differing views over his decision not to walk at Trent Bridge, but it was brilliant to talk to him in the aftermath of his stunning display.
He has the ability to produce amazing spells in which he just blows teams away, and his burst of 5-20 in 45 balls was among the best he has ever produced.
When he gets on a roll, he bowls with great pace, at a fuller length and becomes unstoppable. It was brilliant, beautiful bowling and he deserves all the plaudits he is receiving.
Whether he deserved the man-of-the-match award is debatable, however, given the immense contribution of Ian Bell to England's victory.
When the Warwickshire man walked out to bat at what was effectively 17-3 on Sunday, England were in a dire position. If he had been dismissed early, Australia would probably have won the match later that day.
Instead, under great pressure, Bell showed incredible determination to score his third century of the series and underline his immense contribution to England's success.
Bell's hundred helped England set Australia a formidable victory target of 299, which I never really thought they would get, even when they got off to a promising start through David Warner and Chris Rogers's 109-run opening stand.
It takes many factors to be able to chase down such a high score: the pitch must be blameless, the bowling has to be pretty poor and you need some luck along the way.
It just does not happen very often and you always felt that with Australia's brittle batting line-up, once one wicket fell, the rest would probably follow.
More importantly, England simply do not lose games like that these days. They battle really hard and in Cook they have a laid-back, undemonstrative captain who is as tough as nails underneath.
I think Cook has learnt a lot from the Headingley Test against New Zealand in May when he was heavily criticised for not imposing the follow-on and then delaying his side's declaration to put the outcome of the match at the mercy of the weather.
He has become much more proactive and his decisiveness was vital to England today.
Cook rotated his bowlers intelligently, turning to Tim Bresnan when the ball started reverse swinging, and set clever fields, such as the short leg that had Michael Clarke hanging back for the short ball, only to be bowled by a full, straight one from Broad.
Cook is a very fine cricketer and a very bright bloke and, although he is a very inexperienced captain, he has proved he can learn quickly and adapt to situations.
With the series in the bag - and the pressure off - I wonder whether we can now expect to see Cook finally finding his feet with the bat and scoring a big hundred in the final Test at The Oval.
The England players can really let rip in this final Test. They do not want to let Australia have a sniff, so they should go out there and be ruthless as they look to go into the series down under off the back of a 4-0 win.
I hope the selectors do not make changes just for the sake of resting people. They all have a week off now, so they should come back next week and do it again.
Meanwhile, Australia's fragile confidence has taken another battering. Inevitably, the spotlight will fall on their batting line-up in which Usman Khawaja is far too fallible to bat at number three, Steve Smith looks much too high at five and Shane Watson is an lbw waiting to happen.
They are struggling, but they have to try their very best to turn things around so that they can start the next series with something behind them.