Ashes 2013: Stuart Broad lifts England to new Ashes heights

By Tom Fordyce
Chief sports writer
Last updated on .From the section Cricket255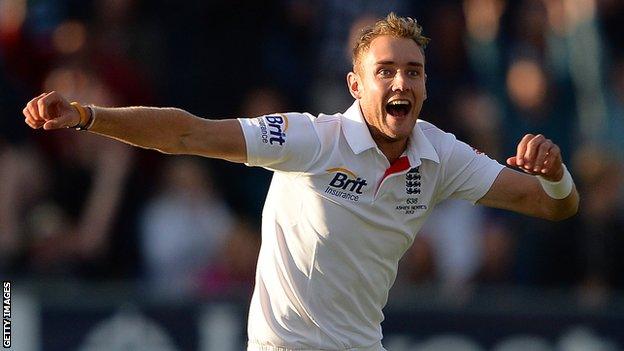 Test cricket does like to tease, to suddenly change pace from stroll to sprint, to shock and to awe.
In less than two hours, from a position of strength from which they had every chance of striking for victory, Australia lost their final eight wickets for 56 runs.
Yet this was more than a mere collapse. On a day when the momentum had been grabbed by one side, filched by the other and then snatched back in breathless fashion, this was capitulation on fast-forward, a death-dive from sunny skies.
But it was not suicide. With a blitzkrieg burst of six wickets for 20 runs in 45 mesmerising deliveries, Stuart Broad produced one of the great spells in Ashes history. In a series of uneven quality, victory was sealed with wonderful skill.
And it came from near crisis. On 120-1 at tea, chasing 299 for the win, Australia looked comfortable. An hour later, 168-2 and with David Warner carting an old ball all around the Riverside, England looked lost. With the run-rate at four an over, we calculated, Australia would be within 50 runs by stumps.
Enter Broad. Exit logic.
This is not yet a great England side. Yet when they are under the most severe pressure, they have the invaluable ability of finding a great performance.
This one came so rapidly and so dizzyingly that it was almost impossible to fix in the mind, so the timeline of wickets is worth preserving for accuracy as much as posterity:
5.44pm: Warner. 6.10: Clarke. 6.22: Smith. 6.29: Watson. 6.39: Haddin. 6.59: Harris. 7.14: Lyon.
Nine in a session, with a soft ball, on a pitch doing little? Tube trains have left central London in rush-hour at a slower rate than batsmen departed the middle.
That it took another 26 minutes for the final act to play out felt like an age, not least because the encroaching darkness threatened to postpone and thus poop the party.
Broad has previous in these sorts of cluster-bomb spells. In the last Ashes series in England it was his 5-37 on the second day at The Oval that blew Australia away; two summers ago, his 6-46 against India at Trent Bridge included both a hat-trick and five wickets in 16 balls without a run conceded. Earlier this season, against New Zealand at Lord's, he took 7-44 in 11 overs to win the first Test for his side.
Seldom can you see them coming. In the previous 11 Ashes innings he had bowled in before this Test, he had bagged a paltry nine wickets at a cost of 60 runs apiece.
Here? 11-121 in the match, not only his best ever Test return but the best match figures for an England bowler in an Ashes Test since Phil Tufnell took 11-93 at The Oval in 1997, and the second best since Fred Trueman took 11-88 at Headingley back in 1961.
How? So carefully computer-analysed and closely understood are the actions of modern fast bowlers that there should be an easy technical explanation for it, yet these tornados from Broad blow in like some unquantifiable force of nature.
His captain Alastair Cook spoke afterwards about Broad just clicking, his three weapons of pace, movement and control combining rather than clashing to make him almost unplayable. As to why the storm struck today rather than a week ago, or at Lord's last month, no-one seems to know.
What Broad does have, sometimes to his detriment, is the sort of aggression that defines the very best of his trade. He also has the self-confidence to believe that the mojo can take hold from nowhere.
Tim Bresnan might have pushed the first domino over with the brilliant angled delivery he produced to find Warner's outside edge, but it was Broad who kept them falling.
His delivery to bowl captain Michael Clarke was the moment when England first truly sensed that they could take control, his brutish short one that forced a rattled Steve Smith to play on the confirmation.
Even then it seemed certain that the match would go into its fifth day. Broad, bowling full and fast, deemed different.
With this 74-run triumph, England have now won five of their six Tests this summer, and seven of their last 11 without losing once.
More poignantly for those who have suffered with them over many bleak years of Australian domination, they have also levelled the overall Ashes balance at 31 series wins apiece.
Not since 1985 and David Gower's sun-kissed summer have they won three Tests in a home Ashes series; with one more to come this time around, they have the chance at The Oval to do what no England side has ever done and win four Ashes Tests in a series in this country.
If it is giddy stuff, it has come about in giddy fashion.
England have played well only in bursts. But those bursts have been electrifying, and they have been enough to open an unbridgeable chasm between the sides.