Ashes 2013: Bring back 'home' umpires - Alec Stewart

By Alec Stewart
Ex-England captain & Test Match Special summariser
Last updated on .From the section Cricket275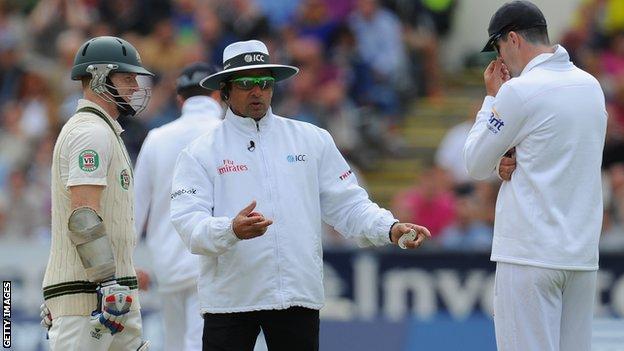 Umpiring is the hardest job in cricket and the people who do it have my utmost respect.
Unlike batsmen or bowlers, umpires are out in the middle for every ball of every day. At international level, their decisions are closely scrutinised and their every error is exposed.
They are human beings and they are always going to make good decisions and poor decisions, but in this year's Ashes series the standard of umpiring simply has not been good enough.
On top of the well-documented problems with the decision review system (DRS), in all four Tests there have been some very obvious mistakes which the general cricketing public would not expect at this level.
I believe the root of the problem is the fact there are only four non-English or Australian umpires on the International Cricket Council's Elite Panel.
This means the three umpires for all 10 Tests in the back-to-back Ashes series have to come from the quartet of New Zealander Tony Hill, Aleem Dar of Pakistan, Sri Lankan Kumar Dharmasena and Marais Erasmus of South Africa.
Having such a small pool to choose from for such high-profile contests is not a healthy state of affairs for the game and the time has come to bring back home umpires.
The best umpires should be overseeing the best matches, and if some of the most talented and respected officials happen to be English or Australian then why shouldn't they be appearing in the Ashes?
The obvious counter-argument is that so-called "non-neutral" umpires could be biased; their very presence would allow people to question their partiality.
I'm fully aware of the problems that existed before non-neutral umpires were made mandatory at one end in 1994, and both ends in 2002. India's Sunil Gavaskar and Pakistan's Javed Miandad were almost never given out lbw in their own countries, while tensions between players and umpires occasionally flared up in the middle of matches, such as in the infamous incident between England captain Mike Gatting and Pakistani official Shakoor Rana in Faisalabad in 1987.
But that was then and this is now. In today's international cricket, you have cameras, stump microphones, Hawkeye, Hot Spot and Snicko analysing every delivery.
Umpire's decisions are under greater scrutiny than ever before, while DRS effectively negates the potential for bias by allowing teams to overturn blatantly incorrect calls.
Significantly, umpires are no longer employed by their home boards. Their paymasters are the ICC, so they are appearing under the banner of a neutral organisation. Their performances are analysed, and if they have a few bad games they can be struck off the Elite Panel.
I have never umpired, but I imagine that at the end of five days in the middle you are worn out, mentally exhausted. If you have had a bad game and are feeling low on confidence, the last thing you need three days later is to be under the spotlight in another Test match.
By allowing home umpires, a concept ICC chief executive Dave Richardson has said he is open to debating, you would automatically give the game's ruling body a pool of 12 men to choose from for every game, meaning everyone would stay fresh.
Like players, those who were underperforming could be left out and given a chance to recharge their batteries and regain their confidence.
Bringing back home umpires could also raise standards by making it a more desirable, and therefore more competitive, profession.
At the moment, international umpiring means spending the majority of the year on the road, living out of suitcases. If umpires were allowed to officiate for some of the year in their own countries, they would have the added benefit of being able to spend more time with their families.
The Ashes is the pinnacle of world cricket. It is the oldest and most-hotly contested series in the game and it sells out grounds whether the matches are taking place in England or Australia.
The paying public deserves to see not only the best players, but also the best umpires the game has to offer.
Twenty20 Finals Day
Surrey will be making their first appearance in FLt20 Finals Day since 2006 on Saturday, and the whole club is buzzing at the prospect.
While I am disappointed and frustrated that we won't have our captain Gareth Batty with us after the ECB's decision to suspend him, I expect the team to rise to the challenge of playing current holders Hampshire in the semi-finals, and hopefully go on to secure the trophy for the first time since 2003.