Ashes 2013: The Oval ground guide, history and statistics
By Mark Mitchener
BBC Sport
Last updated on .From the section Cricket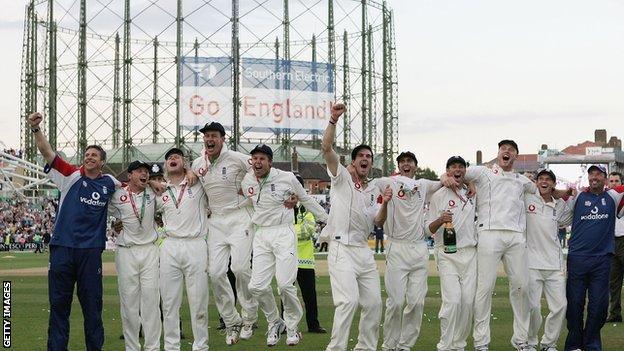 The Oval is indelibly linked with the Ashes and can justifiably claim to the birthplace of the great Anglo-Australian sporting rivalry.
When England won their next series in Australia, captain Ivo Bligh was presented with a terracotta urn to symbolise the regaining of "The Ashes".
The Oval also hosted FA Cup finals and both football and rugby internationals in the 19th century, and a nearby gasometer gives a familiar look to the south London skyline.
It has traditionally been the venue for the final Test of the summer, so has often been the place where the Ashes have been won, lost, retained or regained.
The Oval in numbers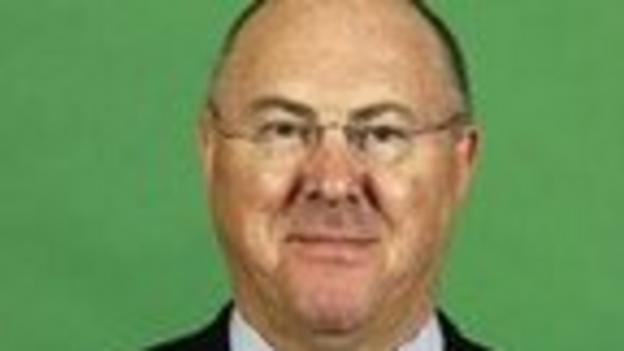 BBC Test Match Special statistician Malcolm Ashton presents The Oval's Ashes records:
England-Australia Tests: 35 (England won 16, Australia won six, with 13 draws)
First England-Australia Test: 6-8 September 1880. The very first Test played in England (and only the fourth of all time) resulted in a five-wicket win for England. WG Grace hit 152 on the first day and Australia were forced to follow on.
First Ashes Test: The Sporting Times's "obituary" was published after Australia's win at the Oval in 1882, so the first Test at the ground when the Ashes were at stake was two years later, on 11-13 August 1884. Australia made 551, with all 11 England players getting a chance to bowl - including wicketkeeper Alfred Lyttleton, who took 4-19 with underarm "lobs" - and the match was drawn.
Highest Ashes total: 903-7 declared by England in August 1938. Opener Len Hutton made 364 (see below), Maurice Leyland hit 187, and Joe Hardstaff junior added an unbeaten 169. England batted into the third day and Australia - with captain Don Bradman and Jack Fingleton unable to bat because of injury - lost by an innings and 579 runs. At the time, England's total was the highest in Test history, and has only been overtaken since by Sri Lanka's 952-6 declared against India in Colombo in 1997.
Lowest Ashes total: 44 by Australia in August 1896. In a low-scoring game, England's 145 and 84 outscored Australia's 119 and 44. In the fourth innings, England left-arm spinner Bobby Peel took 6-23 in what proved to be his final Test.
Highest individual Ashes score: 364 by Len Hutton in that record-breaking match in 1938. In only his sixth Test, Hutton batted for more than 13 hours, facing 847 balls and hitting 35 fours - and bettered the highest previous Test score, Walter Hammond's 336 not out against New Zealand in 1933. Hutton was knighted in 1956 but lost his record to Garfield Sobers two years later.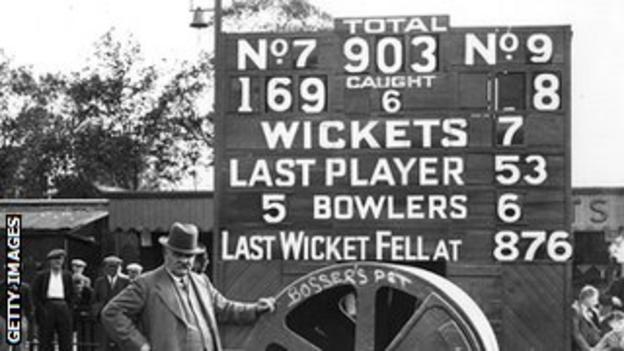 Most Ashes runs: 557 by Hutton (who averaged 111.40 on the ground) - four more than fellow cricketing knight Don Bradman, whose 553 Oval runs came at an average of 138.25.
Best Ashes bowling (innings): 8-65 by Australia off-spinner Hugh Trumble in August 1902. Taking the new ball, he bowled unchanged throughout both England innings. His eight-wicket first-innings haul toppled England for 183, and he claimed 4-108 in the second as England sneaked home by one wicket.
Most Ashes wickets: 32 by legendary Australia leg-spinner Shane Warne. Despite modest returns (by his high standards) in 1993 and 1997, he returned match figures of 11-229 in 2001 and 12-246 in 2005.
Ashes runs scored: 17,864, for the loss of 557 wickets at an average of 32.07 runs per wicket.
Ashes boundaries: 1,626 (1,600 fours, 26 sixes)
Classic Ashes match - Fifth Test, 1968
As England and Australia headed to the Oval for the final Test of the 1968 series, Australia led 1-0 and already had their hands on the Ashes, but England were determined to square the series.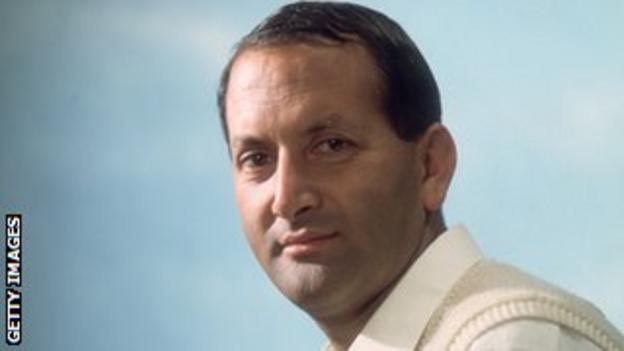 England captain Colin Cowdrey won the toss and opener John Edrich led the way with 164, but the innings that everyone remembers was the 158 scored by all-rounder Basil D'Oliveira, recalled for this Test after Roger Prideaux withdrew with illness.
Born in South Africa and classed by the apartheid government as a "Cape Coloured", "Dolly" had to move to England to establish a professional cricket career. Dropped on 31, he made a century to lift the hosts to 494 in the first innings.
Australia skipper Bill Lawry responded with 135 as the tourists avoided the follow-on but were bowled out for 324.
Seamer Alan Connolly took 4-65 as England made 181 in their second innings, which finished late on day four, setting Australia 352 to win, and the tourists were 13-2 overnight.
They had reached 85-5 on the final morning when rain arrived, threatening to wash out the rest of the match, but a sterling effort by the groundstaff - bolstered by volunteers from the crowd - enabled play to restart at 16:45, with only 75 more minutes possible.
Medium-pacer D'Oliveira made the crucial breakthrough by bowling wicketkeeper Barry Jarman to reduce Australia to 110-6 - the cue for Kent's Derek Underwood, who had taken three of the first four wickets, to bowl England to victory.
Underwood, whose left-arm spin was delivered at close to medium pace, proved to be unplayable on a sticky, drying wicket.
With time running out, he claimed the last four Australia wickets in 27 deliveries as England wrapped up a 226-run win that owed much to the volunteers who helped dry the outfield.
However, the match had lasting consequences for world sport - and politics - because of D'Oliveira's century.
What happened next? When England named their squad to tour South Africa that winter, D'Oliveira's omission was a surprise in cricketing terms after his Oval century. But after Tom Cartwright withdrew from the tour squad through injury, D'Oliveira was named as his replacement. When the South African government refused to allow him into the country, the tour was cancelled.
Following protests, South Africa's tour of England in 1970 was also cancelled - that year, they were suspended by the International Cricket Conference (now the International Cricket Council) and did not compete again in official international cricket until 1991, following the dismantling of the apartheid system.
D'Oliveira played Test cricket until 1972 and continued to play for English county side Worcestershire, where son Damian and grandson Brett have followed him into the team. England and South Africa have played for the Basil D'Oliveira Trophy in Test cricket since 2004. He died at the age of 80 in 2011.
Underwood went on to take 297 wickets in 86 Tests, the most by an England spinner (currently 52 ahead of Graeme Swann), and was MCC president in 2008-09.
Champagne moment - 14 August 1948
In 1948, Bradman - arguably the greatest cricketer of all time - captained Australia for the final time in England, on a tour when they remained undefeated, earning the nickname "The Invincibles".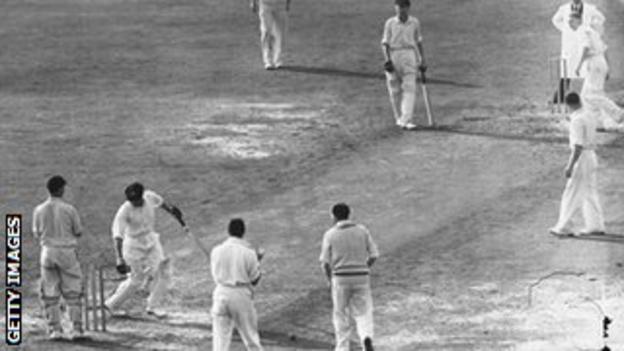 With Australia having won the series, Bradman's final Test came at the Oval, where England won the toss and batted but were skittled for 52 as fast bowler Ray Lindwall took 6-20 and opener Hutton was last out for 30.
By the time Bradman went out to bat late on the first day, in his familiar number three position, Australia were 117-1.
"The Don" received a standing ovation because the crowd expected - correctly, as it happened - that if Australia needed to bat only once, this would be Bradman's final innings.
England skipper Norman Yardley shook his opposite number's hand and led his players in three cheers for Bradman, who was on the verge of an astonishing statistical accomplishment - needing to score only four runs to finish with a Test batting average of 100.
Bradman defended his first ball from Warwickshire leg-spinner Eric Hollies, was bowled by a googly next ball, leaving his Test average 99.94 and earning Hollies a place in cricketing legend.
There was an apocryphal tale that, overcome by the emotion of the occasion, Bradman had a tear in his eyes as he played on, but it was firmly denied by the man himself, who also insisted he was not aware of how close he was to averaging 100.
Australia were bowled out for 389, England made 188 in their second innings and lost by an innings and 149 runs. Bradman's Test career was over.
What happened next? Bradman bowed out of Test cricket with 6,996 runs from 52 matches, but his average of 99.94 has never been remotely challenged by any player.
Knighted on his retirement, he continued to serve Australian cricket as an administrator and selector, remaining an icon of the Australian nation even after his death, aged 92, in 2001.
Having been recalled for the Oval Test, Hollies played six more Tests for England over the next two years.
He continued to represented Warwickshire until 1957, finishing his career with 2,323 first-class wickets and has a stand named after him at Edgbaston - but he will always be remembered as the man who bowled Bradman in 1948.