Simon Jones will play elsewhere if no new Glamorgan contract
Last updated on .From the section Cricket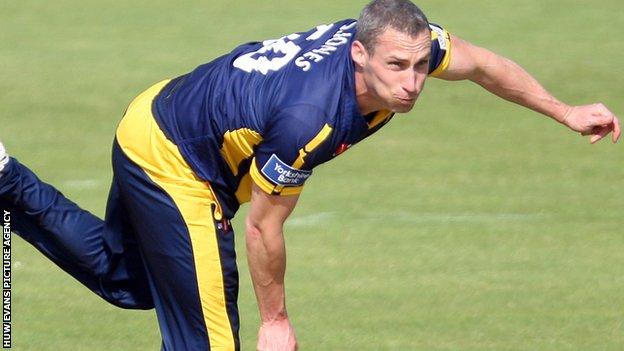 Paceman Simon Jones says he is prepared to move to keep playing cricket if Glamorgan do not offer him a new contract.
The former England international is out of contract with the Welsh county at the end of the 2013 season.
Jones, 34, who was an Ashes Test series winner with England in 2005, says he is prepared to leave Glamorgan if necessary to keep playing.
"You have to go where the work is," said Jones.
"I wouldn't want to leave, I wanted to finish my career here, but I have a young family to provide for.
"If things don't work out with Glamorgan, which I hope they do, then I will have to look at other options. If there are other options, I will take them."
Jones has been dogged by a long-standing knee injury for most of his career but he believes there are another couple of years of cricket left in him.
He reveals there has not been a discussion about his future at the Swalec Stadium with Glamorgan.
"I want to carry on playing cricket, I want to play another year or two years at a push," said Jones.
"No contract has been offered yet, so hopefully I can perform in these last four games and get them rethinking about what they want to do.
"It is entirely up to Glamorgan what they do. They have got their ideas of where they want to go and how they want to progress and if that involves me then fantastic.
"If it doesn't then I want to carry on playing and I will have to look elsewhere, but I don't want to. If I have to, I will."
Jones' season has been hampered by injuries, with knee and shoulder problems, and he has spent a limited time on the field with Glamorgan this season.
The fast bowler returned to Glamorgan from Hampshire on a two-year deal in October 2011.
"My body is feeling good and I have just been unlucky with a few setbacks really," said Jones.
"I know I have to bowl out of my skin if I want another contract."