FLt20 finals day: Muhammad Azharullah's wait for glory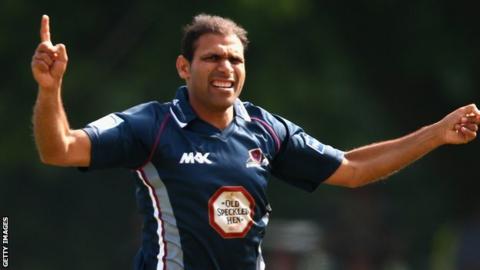 FLt20 finals day
Venue:

Edgbaston

Date:

Saturday, 17 August

Start:

11:00 BST

Coverage:

BBC Sport online, BBC Radio 5 live sports extra, BBC local radio
A romance kindled inside a Yorkshire scorebox deflected the course of Muhammad Azharullah's life and career.
What was supposed to be a summer sojourn away from Pakistan to play league cricket in England became the catalyst for marriage, a baby girl and the success story of this year's FLt20.
Azharullah, a trusty seam bowler in Pakistani first-class cricket, gave up his trade for three years - a brief spell back in Pakistan aside - to move to England and marry Emma Taylor, the scorer at his Bradford Cricket League club Pudsey Congs.
The pursuit of love instead of bowling maiden overs paid off, with Azharullah - in his debut season in English county cricket - on his way to Twenty20 finals day with Northamptonshire as the competition's top wicket-taker.
"You make really big decisions in life. I could have stayed in Pakistan and worked hard there," the 29-year-old, who has taken 46 wickets across all formats this season, told BBC Sport.
"But I met Emma, moved here in 2010 and thought I had a few years in my body for county cricket.
"I consulted with my family and they said take a couple of years off and put yourself up for trials. I always believed I would get there."
Despite being well established in Pakistani cricket, Azharullah's reputation had not reached the heights worthy of an overseas contract in England, so his only option, after moving to Halifax in 2010, was to wait three years for UK citizenship.
It meant a pace bowler who had accrued notable figures on the dust bowls and flat tracks of his native land - 190 wickets from 53 first-class matches - was left on the shelf.
Although his beginnings with Multan were inauspicious, 28 wickets from three matches at new team Quetta in 2005 announced his arrival on the domestic scene.
The Punjab-born seamer continued to impress at the Water and Power Development Authority and toured with the Pakistan development team, but fell short of breaking into the senior national side.
"I was in and around playing for the country but never crossed the line," said 'Azhar', as he has come to be known by staff and fans at Wantage Road.
"I had a decent job there, with one of the biggest cricket teams. But I decided to live here with my wife and decided to wait for the period to qualify for county cricket."
The possibility of moving permanently to the UK was barely a consideration when, in 2006, Azharullah agreed to spend his summer playing for Pudsey Congs.
But when Azhar met Emma all that changed: "I used to go and ask her for my analysis and figures. Then we were engaged two years later."
The pair were married in 2009, Azharullah moved to England in 2010, and their first child Aisha was born in 2011 - in fact, her second birthday falls on Saturday's finals day.
"I give a load of credit to my family, particularly my missus," said Azharullah, who admits terms like "missus" were not in his vocabulary seven years ago.
"She has been really supportive because I had to look after my body in the colder conditions.
"I played a little bit of league cricket but my wife was running the house to be honest."
In January, after years representing Pudsey and latterly East Bierley in the Bradford Cricket League, Azharullah became eligible to play county cricket and was pointed in the direction of Northants by Pudsey chairman Ralph Middlebrook, father of veteran Wantage Road spinner James.
Impressed, head coach David Ripley offered a one-year deal to Azharullah, who turned to former Pakistan Test bowler, and his captain at the Water and Power Development Authority, Shabbir Ahmed for advice.
"He suggested taking whatever the offer is because they've never seen me and they will be putting trust in me," Azharullah explained.
"He said, 'I believe you'll do well and then you can extend your career'.
"Northants have given me an opportunity to play county cricket for a year and I've been blessed with the performance.
"It was an educated risk for Northants. They saw my pace and my career statistics, which are on flat wickets in Pakistan."
Azharullah's 24 wickets in this year's FLt20 have made him not only the competition's most prolific bowler, but will no doubt have attracted the attention of clubs in Twenty20 competitions across the globe.
He has, professionally, insisted his focus remains solely on finals day but, as well as being keen to push his abilities in the four-day game, Azharullah has not ruled out a late emergence on the international scene - maybe even with England.
"It's always been my dream to play international cricket," he said.
"It never happened but I've never given up and won't as long as my legs are working. I'll push and see what happens."
Before then it is Edgbaston calling on Saturday, with a semi-final against Essex and the possibility of facing Surrey or reigning champions Hampshire in the final.
It seems a fitting end to the campaign for a man unheard of in these parts six months ago, at a club unfancied at the beginning of the competition.
"I've sacrificed three years of cricket and you never know when you go to a new place whether you'll get an opportunity," he said.
"But you have to win people's trust. I've been blessed with that and my team's being doing so well in all formats.
"We may have surprised everyone but it won't surprise me if we win and get promoted in the County Championship.
"After the sacrifices I'm excited to be going to finals day and want to go all the way."