Mohammad Asif admits spot-fixing role and apologises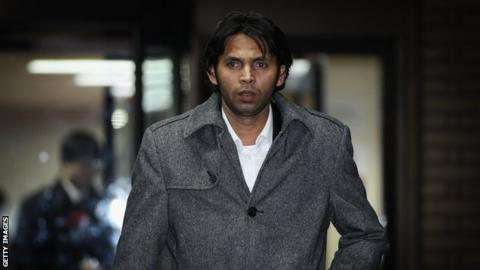 Pakistan cricketer Mohammad Asif has apologised for his involvement in a 2010 betting scandal after publicly accepting his guilt for the first time.
Asif was jailed in 2011 and banned for seven years, two suspended, for bowling deliberate no-balls for money during a Test against England at Lord's.
The 30-year-old fast bowler failed to have the ban overturned in June.
"I admit what I did was wrong and I am ashamed for bringing disgrace to my family and my country," Asif said.
"I apologise to the nation and the Pakistan Cricket Board. I feel sorry for what has happened. I deserved the punishment I got," he told a news conference.
Asif and team-mate and former captain Salman Butt were jailed after being found guilty by a British criminal court of conspiracy to cheat and conspiracy to accept corrupt payments. A third team-mate, fellow paceman Mohammad Amir, admitted the charges before the trial and was also jailed.
All three were also given bans from playing by the International Cricket Council (ICC).
Asif served half of his 12-month sentence and was released in May 2012.
In April, Butt and Asif lost appeals at the Court of Arbitration for Sport (Cas) to have their bans from cricket overturned and judges also rejected an appeal by Asif at London's Court of Appeal in June.
Butt admitted his involvement in the scandal for the first time later that month.
Asif, who took 106 wickets in 23 tests before his career came to a halt, is the last of the three to admit his guilt and says he now wants to work with the ICC and the Pakistan Cricket Board (PCB) to fight corruption in the game.
"I don't know what is going to happen now that I have admitted everything. But my conscience is clear now," Asif added.
"I want to play a role now in at least warning the younger players of the pitfalls of corruption and fixing. I want to tell them don't step into the path of corruption."