Saltires brushed aside by Lancashire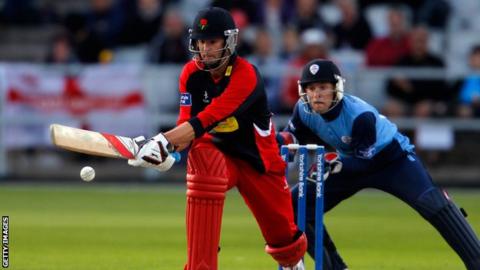 Scotland crashed to a third home Yorkshire Bank 40 defeat of the week as Lancashire cruised home by seven wickets in Glasgow.
Tom Smith hit an unbeaten 42 as the visitors reached their target of 125 in the 24th over with 28 balls to spare.
Scotland had posted 145 before being bowled out with two balls left of their scheduled 36 overs of a rain-hit match.
Richie Berrington (35) and Preston Mommsen (31 not out) were the Scots' top scorers.
Rain delayed the start and the first break came with Scotland, looking to recover from heavy defeats by and , on 20 without loss after four overs.
Scotland had not added to their total before another shower delayed matters five balls later and Freddie Coleman was bowled out by Kabir Ali for eight when the teams returned.
Hamish Gardiner was soon caught out for 12, but Berrington and Mommsen both steadied the home side before Calvin Burnett hit 25 from 17 balls.
Burnett's impressive cameo incorporated five boundaries, including three fours in succession, before Ali bowled him out to take his third wicket.
After another rain delay early in Lancashire's innings, Burnett took the first wicket for Scotland with the visitors on 26 in the sixth over as Gordon Goudie caught Stephen Moore's drive to short cover with the batsman on 18.
However, fellow opener Smith stayed in until the end of play as Lancs recorded a comfortable win with Ashwell Prince also on form with 36 from as many balls as they made 125 for three.