Essex captain James Foster dismisses criticism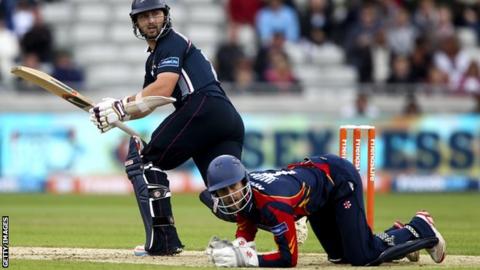 James Foster believes Essex are not inconsistent nor underachievers.
The Eagles lost to Northants at FLt20 finals day, a fourth T20 semi-final defeat since 2006.
In both County Championship Division Two and YB40 Group B, they sit fourth and are unlikely to clinch promotion and qualification respectively.
"Reaching finals day is an achievement so no [we're not underachievers]. And inconsistency? We've played two bad games all year," he told BBC Essex.
"I've been impressed by how we have played this season. Obviously you don't rock up to lose in the semi-final. But Twenty20 is a game of fine margins and Northants just played a little better than us.
"We bowled nicely and scored 168 runs when par at Edgbaston this season is 144."
The Essex side that lost on Saturday included five players with experience of either Test match or ICC tournament cricket.
Opponents Northants boasted the international experience of South Africa's Richard Levi and Australia all-rounder Cameron White, but Steven Crook's unbeaten 46 off 24 balls proved the match-winning innings.
"There are very few players in the world who can come in and strike the ball straight away and Steven Crook is one of them, even if he has never played for England. If we could have got him or [Cameron] White out it would have been a different story," Foster added.
"Hopefully losing can be a catalyst for us to kick on. If we win our final two YB40 games then there's still a chance of qualifying and we have a game in hand in the Championship so we have so much still to play for."