Ashes 2013: Jonathan Trott wants DRS changes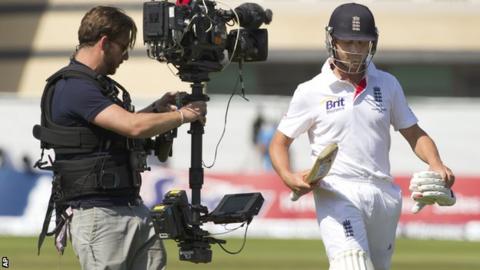 England batsman Jonathan Trott says the decision review system should be changed to help batsmen.
DRS has been criticised after a series of controversial decisions during the Ashes between England and Australia.
Currently, when a decision is reviewed, there must be clear evidence of a mistake for it to be overturned by the television umpire.
"Maybe more benefit of doubt should go to the batsman," Trott told Radio 5 live's Sportsweek.
"More benefit of doubt is going to the umpire with regards to defending an umpire's decision."
Trott was wrongly given out lbw by the TV umpire during England's victory in the first Test at Trent Bridge when replays showed an inside edge.
England captain Michael Vaughan has called for Hot Spot, which uses thermal imaging to help detect whether the ball hits the edge of the bat, to be removed from the DRS process.
And former umpire John Holder says the current umpires need more training to help prevent errors.
While Trott remains in favour of the review system, which was introduced by the International Cricket Council on a trial basis in 2008, he admitted: "DRS is under pressure and, (under) the scrutiny of an Ashes series, there are a few grey areas that have been shown."
Asked about the standard of umpiring in the Ashes, he added: "That has come along with the DRS and put the umpires under a bit of pressure. They sort of go hand in hand with each other.
"DRS does create a bit of atmosphere and bit of tension in the game for the spectators. It creates a bit of drama.
"There are a few things that could be looked at but I don't think it's a bad system at the moment.
"We should straighten out the rules and get clarity with how it should work and how decisions are going to be made, then the players or the spectators won't have a problem."
You can listen to Trott's full interview in Sportsweek on BBC Radio 5 live at 09:00 GMT.