Weekend cricket results
Last updated on .From the section Cricket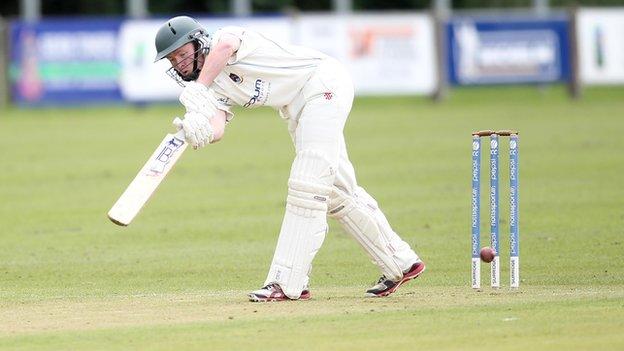 Sunday 18 August
Ulster Bank Premier League
Instonians v Waringstown
Waringstown 249-5 (J Hall 84, G Thompson 55 no, O Pienaar 39)
Instonians 98
Waringstown won by 151 runs
Leaders Instonians' League lead cut to four points
Long's Supervalu NW Premier League
Donemana v Glendermott -
Glendermott 146 (G Christian 65)
Donemana under D/L needed 148 from 42 overs
Donemana 148-7
Donemana won by three wickets
Donemana now sure of staying in Premier League
Saturday 17 August
Ulster Bank Premier League
North Down v CIYMS
North Down 150 (P Eakin 41 not out, T Britton 5-23, J Mulder 4-25, including a hat-trick)
CIYMS 52 (T Ley 6-32)
North Down won by 98 runs
Ballymena v CSNI
CSNI 255-4 (N Jones 132, A Cowden 55)
Ballymena 112
CSNI won by 143 runs
Lurgan v Instonians
Instonians (294-5 C Brome 104, N Russell 72, A White 62 not out)
Lurgan 174 (P Maxwell 69, E Moleon 4-20, Z Rush 2-20)
Instonians won by 120 runs
Lisburn v Waringstown
Waringstown 193 (A Dennison 59, D Brown 6-29)
Lisburn 105 (D Brown 28, K McCallan 4-11, G Kidd 3-23)
Waringstown won by 88 runs
Each of the main contenders for the title, Instonians, North Down and Waringstown have three matches remaining.
Long's Supervalu NW Premier League
Brigade v Fox Lodge
Fox Lodge 45 J Thompson 4-11
Brigade 46-1
Brigade won by nine wickets
Donemana v Eglinton
Eglinton 164 (S Thompson 45, J McGonigle 5-18)
Donemana 167-3 (C Sajid 79 no, W McClintock 60)
Donemana won by seven wickets
Strabane v Glendermott
Glendermott 252-6 (G Christian 127, T Barr 3-45)
Strabane 237-9 (A Gillespie 39, D Lynch 32 no, M Gillespie 30)
Glendermott won by 15 runs
Coleraine v Bready
Bready 166 (R Barr 42, R Knox 2-2)
Coleraine 167-5 (D Cooke 51 not out)
Coleraine won by five wickets
With only a few games remaining, the title would appear to be between Coleraine and Brigade following Fox Lodge's defeat. Coleraine have 18 points and Brigade are only two points in arrears with each having three games to play.