Ashes 2013: Are England flawed winners?
By Sam Sheringham
BBC Sport
Last updated on .From the section Cricket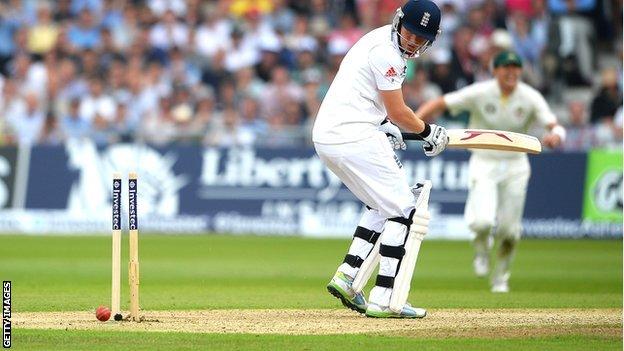 On the face of it, England's Ashes victory has been a walkover. To be 3-0 up with one to play sounds like a job well done.
The reality, however, is somewhat different. England's emphatic margin of victory masks displays that have often been erratic and occasionally ordinary.
Rarely performing as a unit with bat or ball, England have relied heavily on the heroic batting of Ian Bell, inspired individual bowling spells and the inadequacies of an Australia side lacking the experience or quality to take advantage of England's vulnerabilities.
To some, it may seem churlish to find fault in a team which has won five of their last six Tests and are unbeaten in 12. As Manchester United showed in winning football's Premier League last season, champions find a way of winning even when not playing at their best.
Nonetheless, with Australia likely to present a far tougher test in their own conditions this winter, team director Andy Flower and his fellow coaches will be acutely aware of the issues surrounding the composition of the team and the form and fitness of several key players.
With the final Test starting on Wednesday at The Oval, BBC Sport looks at some of the questions facing England and asks two-time Ashes winner Allan Lamb to provide the answers.
Is Joe Root the right man to open?
The England selectors' bold decision to elevate Joe Root to the top of the order for the Ashes appeared to be vindicated when the 22-year-old scored 180 in the second Test at Lord's.
Unfortunately, that innings is the Yorkshire batsman's only significant contribution all series, his average in seven other outings just 13.
Root, so comfortable and composed in scoring his maiden Test hundred against New Zealand from number five in May, has been reluctant to get forward to the new ball, making himself vulnerable to late swing and seam movement.
If he fails again in south London, does he still stay up top, down under?
Lamb's verdict: "Joe looks a very good player but it's very difficult to come in as an opener so early in your Test career. He is good enough to do it, but I wonder whether he would be better served learning his trade at five or six before eventually returning to the top.
"When Ian Bell started off at number three, he struggled, but thrived when he moved lower down the order. One option would be to move Root down and bring in James Taylor to open with Alastair Cook this winter."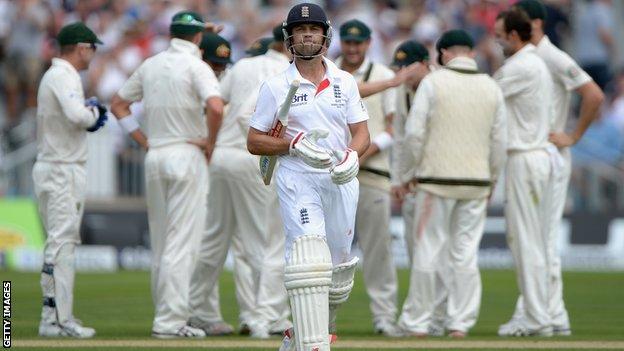 Why have Cook and Trott stopped scoring?
On England's triumphant Ashes tour down under in 2010-11, a fundamental part of their success was the unbreakable alliance between Alastair Cook and Jonathan Trott. Cook amassed a record-breaking 766 runs at an average of 127, Trott a similarly influential 445 at 89.
This summer, England's most reliable pair have a highest score of 62 between them, and whilst Cook is averaging 27, Trott's mark of 24 is worse than the much-mocked Aussie trio of Shane Watson, Phil Hughes and Steve Smith.
With their top order misfiring, England have been three wickets down for less than 70 runs on five occasions this series and have not posted a total of 400 or more in their last seven Tests.
Lamb's verdict: "I wouldn't be too worried about Cook and Trott and I doubt the selectors are either. Before the last series against Australia down under, everyone was saying they shouldn't take Cook, but look what he did. These guys are class, their big scores are just round the corner and I wouldn't be at all surprised if they came at The Oval."
Who should bat at number six?
Since Paul Collingwood bowed out after the Sydney Test in January 2011, England have tried six different batsmen in his position in the middle order - Eoin Morgan, Ravi Bopara, Samit Patel, Taylor, Root and Jonny Bairstow - without settling on a permanent successor.
The current incumbent, Bairstow, is now 12 Tests into his England career but is yet to score a century, and has not come close to doing so in a difficult debut Ashes series.
Although he seems to have ironed out his problems against the short ball, a bottom-handed, closed face style leads him to play across the line of straight balls and has been getting him into difficulty all series.
Lamb's verdict: "There are technical flaws in Bairstow's game that he is going to have to iron out if he is going to make it at Test level. He is very tentative outside off stump and he seems to play at deliveries he should not be playing at. In England batting coach Graham Gooch he has the perfect man to put him right, but he will be under serious pressure to deliver at The Oval."
How did Matt Prior become a walking wicket?
Since scoring a match-saving 110 not out against New Zealand in Auckland in March, Matt Prior has played 11 Test innings, with a highest score of 39, and made three ducks, two of them of the golden variety.
Often arriving at the crease with his team in trouble, Prior has appeared torn between his natural counter-attacking game and a cautious approach more obviously suited to rebuilding an innings.
Although his keeping remains of the highest standard - his quick-step and dive routine to remove centurion Chris Rogers at Chester-le-Street was one of the catches of the series - England are not the same team without his runs.
Lamb's verdict: "Prior has been much too defensive this series and needs to get back to playing his natural attacking game. He is trying to play like a proper batsman, but he would be better off taking his lead from Adam Gilchrist and being aggressive from the start. He is low on confidence at the moment, but if he sticks to what he is good at the runs will come."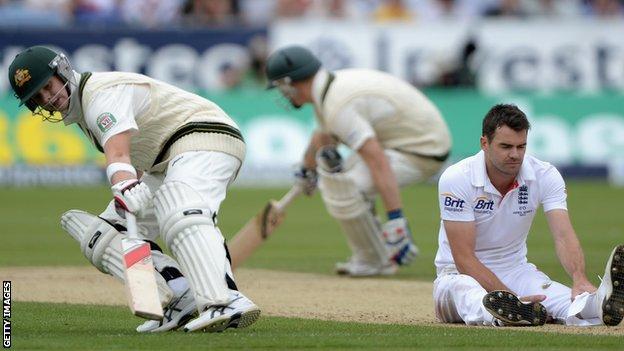 When will James Anderson get back to form?
Like Prior, James Anderson has far too much deposited in the bank to have any worries over his England place, but has suffered a dramatic dip in form.
Since a man-of-the-match display in the first Test at Trent Bridge prompted Pakistan great Wasim Akram to declare him the "best bowler of his era", England's attack leader has seven wickets in three Tests at an average of 53.
At Old Trafford and Chester-le-Street he looked particularly unthreatening. With the ball doing nothing for him in the air, he succumbed to the temptation of banging the ball into the pitch, but only succeeded in serving up easy pickings for the Australia batsmen.
Lamb's verdict: "Anderson doesn't seem to be the bowler he was at the start of the series. He has lost that bit of zip and is not getting the reverse swing that can make him unplayable. I think he just looks very tired and they need to let him rest up a bit. He should skip the Twenty20s and one-dayers and come back fresh and firing for the Ashes tour."
Who should be England's third seamer down under?
The back fracture that has ruled Tim Bresnan out of the last Test followed a performance at Chester-le-Street which suggested the Yorkshire bowler may be capable of making England's problematic third seamer's berth his own.
With Steven Finn still searching for his best form at Middlesex having been dropped after the first Test, and Bresnan and Graham Onions both injured, Chris Tremlett will almost certainly be given the chance to put himself at the front of the queue for Brisbane in November.
Lamb's verdict: "I think Tremlett and Finn will both go to Australia, where the wickets will suit their pace and bounce. I expect Tremlett to play at The Oval - it's his home ground and he will be desperate to put in a performance after such a long time out of the picture."
Is there life after Swann and Pietersen?
Graeme Swann and Kevin Pietersen have been characteristically influential in their latest Ashes triumph, but how much longer can England count on the match-winning talents of their oldest players?
Swann, 34, had surgery on his right elbow for the second time earlier this year, while Pietersen, 33, is still troubled by the knee injury that curtailed his tour of New Zealand in February.
The call-up for Lancashire left-arm spinner Simon Kerrigan in the wake of Monty Panesar's recent indiscretion suggests England are eager to blood a long-term replacement for Swann.
And where Pietersen is concerned, Yorkshire batsman Gary Ballance enhanced his chances of an England debut in the one-day series against Australia with a century for the Lions against the tourists on Friday.
Lamb's verdict: "Pietersen has said many times that he wants to reach 10,000 Test runs and I can't see him packing it in unless he has no choice. It is amazing how success helps those injuries to go away.
"Swann is world-class and will be very difficult to replace when he does call it a day. Kerrigan looks like a useful spinner, but we don't have anyone like Swann around.
"England have a few problems, but the good thing is they are still winning. Once all the players start firing at the same time, they could be unbeatable."