Warwickshire fined for Freddie Coleman ball tampering
Last updated on .From the section Cricket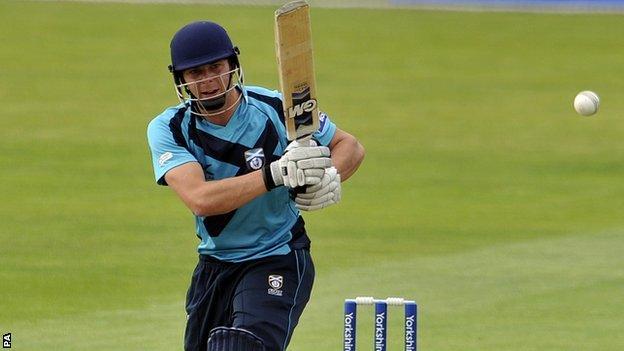 Warwickshire youngster Freddie Coleman has escaped immediate suspension after pleading guilty to ball tampering during a 2nd XI Championship match.
His county have been fined £5,000, but the 21-year-old Scotland batsman was given a two-game suspended sentence for attempting to alter the condition of the ball after sucking a Murray mint.
The match under scrutiny was against Glamorgan at Cardiff (7-9 August).
The infringement was reported by Martin Saggers, the senior of the two umpires.
Coleman was adjudged by the England and Wales Cricket Board to have "knowingly and deliberately changed the condition of the ball in contravention of Law 42.3(b)".
They warned the player that, if he breaks any further ECB regulations in the next two years, then the two-match suspension will come into force.
But, in making their ruling, while clarifying that they are not setting any precedent for any future ball-tampering cases, the ECB sweetened the punishment by taking Coleman's age into account.
And they were also critical of Paul Best, Warwickshire's captain in that game, and the county.
"In the panel's view," the ECB said in a statement, "the club did not provide sufficient discouragement regarding ball tampering, all types of which are clearly inappropriate and in contravention of the laws of the game.
"The panel took into account that Mr Coleman pleaded guilty, that he is a young player and that he was allowed to act in this way with the knowledge of his captain.
"The panel wished to make it clear that the personal circumstances of Mr Coleman were taken into account and that the sanction is not to be seen as setting a precedent in any future cases of this kind.
"The panel has imposed a fine of £5,000 on Warwickshire CCC and the deduction of the points gained in this match."
Glamorgan won the game, at the Diamond Ground (home of Cardiff Cricket Club), by four wickets.