Ashes 2013: 'England desperate to beat Australia again'

By Alec Stewart
Ex-England captain & Test Match Special summariser
Last updated on .From the section Cricket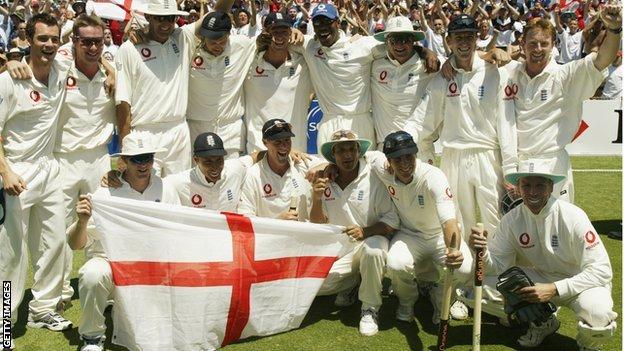 In the eyes of some people I've been speaking to, the fifth Ashes Test match between England and Australia could be seen as a dead rubber - but neither side will be viewing it that way.
England will arrive at The Oval on Wednesday morning wanting to secure a historic 4-0 series victory and Australia will be looking to end a run which has seen them go eight Test matches without a win.
For each of the 22 players involved, there will be the desire to win that exists every time you pull on the shirt to represent your country in a Test match.
Also, and somewhat unusually in Ashes battles, there is the fact that England travel to Australia this winter for an immediate defence of the urn. Events at The Oval could have a small impact on the upcoming series down under, which starts in Brisbane on 21 November.
I played in a number of these end-of-summer matches, both having already won and lost a series, but I always treated them as any other. You have to respect the game and the opposition. You want to win.
For so many years, it was England who found themselves in the position Australia are in now.
Australia won plenty of Ashes series convincingly, but England were often able to put in performances that, although not affecting the outcome of a series, produced Test-match victories.
In 2003, we arrived in Sydney looking to avoid a whitewash and, thanks to a wonderful century from Michael Vaughan and Andy Caddick's seven-wicket haul, we did just that.
Two years earlier, Mark Butcher played one of the best knocks of his career to give us an unlikely win at Headingley and in 1997 - 16 years ago this week - Caddick and Phil Tufnell shared 19 wickets to bowl us to victory at The Oval.
So, even though Australia have won only once in their last 10 visits to The Oval, a run that stretches back to 1972, they may take heart from the fact these series finales can often throw up results that go against the grain of what has gone before.
The tourists also have the boost of England being forced into a change, with Tim Bresnan unfortunately suffering a stress fracture of the back which will keep him out for the rest of the summer.
The bad news for Australia, though, is that the man who looks most likely to replace Bresnan is Chris Tremlett, who had great success down under during England's 3-1 series win of 2010-11.
I'm very pleased for Tremlett, who has worked incredibly hard to battle back from a number of serious injuries. It is a credit to him that he was able to regain the fitness to play first-class cricket for Surrey, let alone earn an England recall.
If Tremlett does get the chance to play in his first Test match since January 2012, he will not only be looking to prove that he has the right to a place on the tour to Australia, but also that he is worthy to be selected for that first Test in the return series.
Also in the England squad are Warwickshire all-rounder Chris Woakes and Lancashire left-arm spinner Simon Kerrigan.
Woakes, who has been involved with England in limited-overs cricket, is a like-for-like replacement for Bresnan, while Kerrigan has bowled well for Lancashire for a long period of time.
Monty Panesar was the man chosen when England wanted two spinners for the third Test at Old Trafford, but with his off-field problems, Kerrigan gets the chance to impress the England staff ahead of the winter tour.
Are either of Woakes or Kerrigan likely to play?
Woakes will be behind Tremlett in the pecking order for the final seamer's spot, while Kerrigan will only come into the reckoning if the pitch is very, very dry.