Tony Cottey wants Robert Croft as Glamorgan coach
Last updated on .From the section Cricket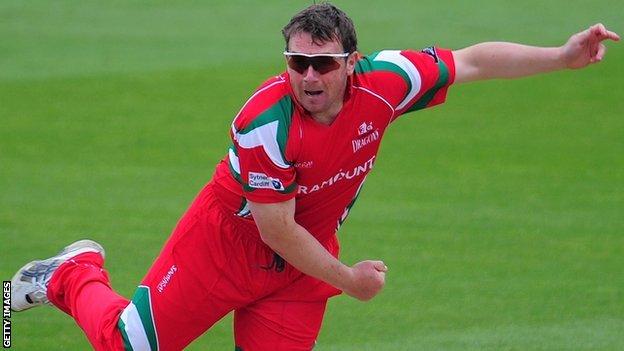 Robert Croft should replace the departing Matthew Mott as coach of Glamorgan, says former batsman Tony Cottey.
Alan Hamer, the Glamorgan chief executive, has stated the search for a new coach will begin when the season ends.
"There is no better person than Robert Croft," said Cottey.
The former New South Wales coach joined Glamorgan in January 2011 and was appointed Glamorgan's head of elite performance in February 2012.
Mott, 39, replaced former coach Matthew Maynard and has decided to return to his native Australia at the end of this campaign.
Croft, who retired from cricket last year, is now on the coaching staff at Glamorgan.
Cottey played for Glamorgan for 12 years and believes his former team-mate is the man for the job.
"My old room-mate and one of my old mates, Robert Croft, has only just retired," said Cottey.
"You have a wealth of experience there, bags and bags of experience and cricket knowledge.
"From my own personal point of view there is no better person than Robert Croft - there is a replacement there for sure.
"If you have a ready-made replacement, who knows the dressing room inside out and has that kind of experience... Robert Croft won't be far from people's minds."
The Welsh county have failed to challenge for trophies in the past two seasons with Mott at the helm.
Glamorgan started well in the Twenty20 but their form tailed away. They are still in contention in the Yorkshire Bank40 but have to win their last two games to qualify for the knockout stages.
Meanwhile, former Somerset director of cricket Brian Rose has refused to rule himself out of contention for a more permanent role at Glamorgan.
Rose spent this season at the Swalec Stadium as a consultant and completed a report on the future of Glamorgan.
"My remit at Glamorgan and Cricket Wales has been advisory and I think the cricket management side of the club will be tied into the report I gave them back in April," said Rose.
"Those sort of things will be acted on over the next week to 10 days.
"We'll have to go down the road of the coaching side of things and also reinforcing the playing staff, those are the two key areas to handle over the next week to 10 days.
"Any cricket director's job down the line will be discussed a bit later later so I'll hang fire [on declaring any interest or otherwise]."
"It's been very exciting seeing some talented youngsters in the age range teams.
"The second 11 and the Minor Counties so there's plenty of talent about, it just needs a little bit of direction to get it going and that's very exciting for Welsh cricket."
Rose also gave Mott his best wishes and paid tribute to how he handled a difficult situation following the acrimonious departure of Matthew Maynard.
"He's had a tough job at Glamorgan for a variety of reasons and when he goes back to Australia he'll benefit from the experience of first-class cricket here," said Rose.