Andre Adams: Nottinghamshire bowler is vital, says Mick Newell
Last updated on .From the section Cricket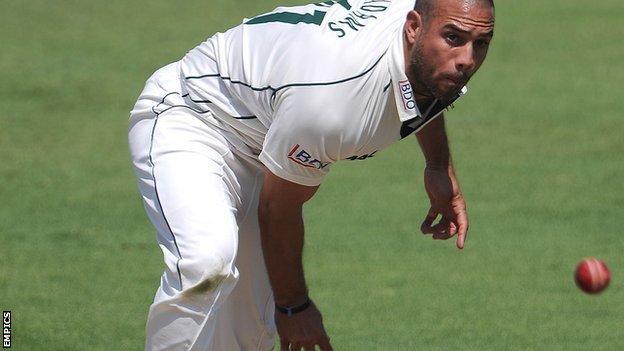 Nottinghamshire director of cricket Mick Newell has told bowler Andre Adams to forget his injury frustrations and focus on helping them avoid relegation.
"My point to him is that he can still have a major impact on our season," Newell told BBC Radio Nottingham.
"I don't think we are safe from relegation yet."
Newell added: "If you look behind us, we feel that we need to win at least one more game to stretch the gap between ourselves, Somerset, Surrey and Derby."
Nottinghamshire are 37 points clear of the relegation places and 47 points behind County Championship leaders Yorkshire, who they host on Wednesday.
While Adams was forced off the field with a slight hamstring concern in the draw with Somerset earlier this month, the 38-year-old is expected to again spearhead the bowling attack.
"Andre is disappointed he hasn't been able to finish more matches or been able to make more of a contribution this year," Newell said.
"It is clear that we haven't taken 20 wickets in our last seven matches, and if you can't take 20 wickets you are not going to win.
"We lost Andre for a number of those matches - he is our best bowler."
The cost of Adams' absence, Newell admits, has been any chance at challenging for the title.
"We have to be realistic and say that we don't look like a championship-winning side at the moment, but we have certainly set targets for ourselves to finish in that top three or four," Newell said.
"We are in sixth place, we haven't won a game in several months and I think we would be kidding ourselves if we thought we were seriously up there in the top group."