Monty Panesar's Essex move a 'no-brainer', says Paul Grayson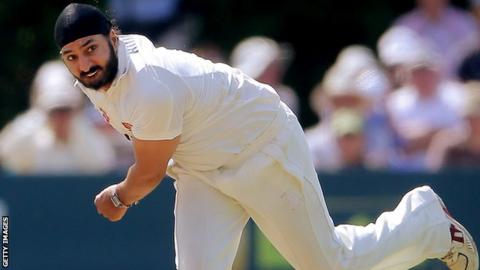 Essex head coach Paul Grayson says it was a "no-brainer" to sign Monty Panesar from Sussex on a six-week loan.
England spinner Panesar, 31, will leave Sussex on 27 September after a club investigation following a fine for urinating on nightclub bouncers.
"It's a no-brainer, he's a world-class spinner," Grayson told BBC Essex.
"The six weeks give him an opportunity to play some cricket, which he's not being doing at Sussex, and he's desperate to go on the Ashes tour."
Grayson continued: "Hopefully we can produce some wickets and give him the opportunity to bowl loads of overs, so he can maybe get on that tour this winter.
"It's not often a world-class spinner becomes available and if England didn't have Graeme Swann, then Monty would have got maybe 300 Test wickets by now."
Prior to his move, Panesar, who has 48 Test caps, issued a statement apologising for letting Sussex, his team-mates and their supporters down.
He also pointed to the work of former Essex, Leicestershire and Somerset wicketkeeper Neil Burns at London County Mentoring for helping him through his "personal and professional problems".
And Burns said Panesar got in touch with him directly to discuss these.
"I was contacted by him about seven or eight weeks ago, saying he was having challenges and explained some of the difficulties in his personal life," Burns told BBC Radio 5 live.
"And I told him the biggest challenge he's got was to focus his energy on playing the best cricket you can.
"Things were starting to show signs of improvement - he was included in the England team for the Ashes Test match at Old Trafford, and then sadly after he returned he went for a night out which was unforgettable.
"Ultimately he's very regretful about it, but the challenge for him now is to absorb the learning and recognise the gravity of the situation, but also put it behind him and focus on playing as well as he can for Essex."
Burns also revealed some of the causes for Panesar's need to confide in his scheme, adding that he has helped in some of the mentoring programme they run.
"One of the contributing factors is his frustration that his cricket career isn't going quite as he'd like it to, and he's had the breakdown of a marriage, but that doesn't make excuses for people misbehaving in public." Burns added.
"But ultimately I've got to know him really well, he's not only a real artist of a spin bowler, but he's been a very generous contributor to our programme for young people and for under-13s from disadvantaged backgrounds.
"I've seen what a quality individual he can be, and I hope we can do all we can to support him through a difficult period."
Sussex chief executive Zac Toumazi says Panesar's exit from the county, following an internal investigation at Hove, is the best outcome for all parties.
"We think this is absolutely right for Monty and this is right for Sussex as well," Toumazi told BBC Sussex.
"It is well reported he has had some challenges off the field in his personal life. We've provided a support network for him all the way through, along with the ECB.
"The best thing for Monty to do is to draw closure, go somewhere fresh and bowl."