Monty Panesar: England place still possible, says Alastair Cook
Last updated on .From the section Cricket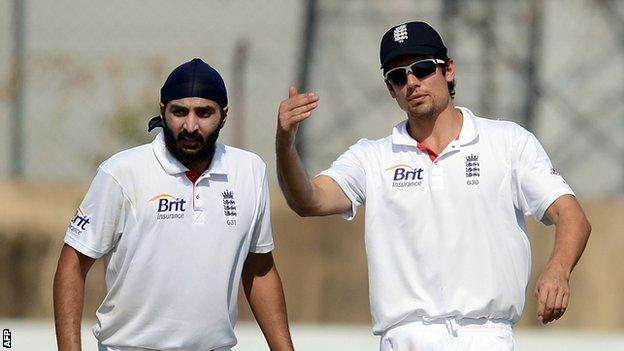 Captain Alastair Cook says left-arm spinner Monty Panesar could still play for England again, despite his recent off-the-pitch indiscretion.
Panesar has since joined Essex on loan from Sussex for the rest of the season.
"He's done wrong and has let the England shirt down a bit. The door is certainly not shut but he knows what he has to do to get back," Cook said.
"Certainly what's happened over the last couple of weeks has been disappointing. He actually rang me up and I've spoken to him about it.
"It wasn't the most pleasant phone call he had to make, to ring the England captain to apologise. He recognises he needs a bit of a change in his life and this is the first step towards that.
"I didn't think his problems were as bad as that, [but] he's got to get that side of his life right because we all know how much a settled life can do for you."
Panesar has played 48 Tests for England and taken 164 wickets at an average of 33.78.
Following the nightclub incident, Lancashire's uncapped left-armer Simon Kerrigan has been preferred as the second spinner in the squad for the fifth Ashes Test at The Oval.
But England skipper Cook believes Panesar, who will be released by Sussex at the end of the season, can still have a part to play in the future.
"We all know the class he has as a bowler," Cook added.
"We have seen what he can do time and time again so he has to go back to the basics and does what he does best, taking wickets. If he does that, all the better for me.
"The bottom line is we need Monty bowling again the way we know he can bowl. The way back for him is wickets.
"We know the record he has in international cricket and we know his pedigree. We need to see him doing it again and hopefully he will be doing that at Essex."