Minor Counties: Shropshire pin hopes on MCCA Trophy final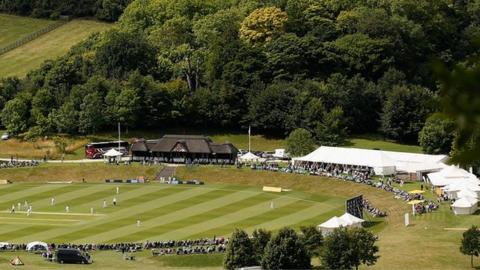 Shropshire's hopes of silverware this season now depend on winning next week's MCCA Trophy final against Berkshire at Wormsley.
Kevin Sharp's men had an outside chance of winning two trophies ahead of their final Minor Counties Western Division game against Cheshire at Nantwich.
Their hopes were ended by the end of the second day thanks to Wales' victory over bottom side Dorset.
But Shropshire also failed to come up with the win they needed at Nantwich.
They were always on the back foot after being flayed by Cheshire's batsmen to the tune of 455-8 on the first day.
Shropshire declared behind on 391-8, but then Cheshire piled up a further 329 in their second innings.
Set an impossible 395 to win in little more than 40 overs, Shropshire finished on 116-5 - to end up third in the final table.
It proved a disappointing finish to a season that offered so much when they won their first four matches, offering hopes of claiming only their second Minor Counties Championship title - 40 years on from their first in 1973.
Defeat by Berkshire in a rain-affected game at Whitchurch a fortnight ago did most to wreck their hopes, leaving them outsiders going into their final round of fixtures.
But they now have the chance to wreak revenge when they meet Berkshire again at Wormsley, the picturesque private ground of the late cricket lover Sir Paul Getty, in Buckinghamshire, in next Wednesday's MCCA Trophy final (28 August, 11:00 BST).