Ashes 2013: England selection took everyone by surprise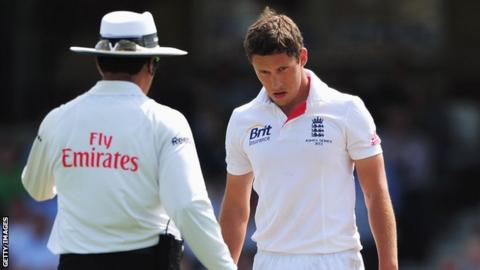 England's team selection for the final Ashes Test at The Oval took everyone by surprise but there was some method in what some would see as madness.
They were very keen to try out a new spinner after Monty Panesar's recent problems and prepared a dry pitch that would allow them to field Simon Kerrigan alongside Graeme Swann.
Once that decision had been taken, they were obliged to play five bowlers, and the logical choice as third seamer was Chris Woakes, because he has the ability to bat in the top six.
Whilst I can understand the logic of the decision, I can't help thinking that England's chances of winning the game would have been better served by picking Steven Finn or Chris Tremlett.
As it is, they now face an uphill battle after Australia reached 307-4 at the close of the first day's play.
Finn and Tremlett will be vital members of England's squad on the fast, bouncy pitches down under this winter and would undoubtedly have benefitted from playing in the final Test of the summer.
Tremlett's inclusion would have given England a chance to assess how he has recovered from his injury problems, while Finn's would have allowed them to examine whether he has overcome the difficulties that led to his omission after the first Test.
Kerrigan may also be pencilled in for England's Ashes squad to tour Australia but would be extremely unlikely to feature in the Tests.
England's second spinner will only play if Graeme Swann suffers an injury or illness, so my inclination would be to take James Tredwell as back-up.
I know he hasn't been amongst the wickets this summer but the Kent off-spinner has much more experience than Kerrigan and could do a decent job if required.
Once Kerrigan was picked, he had to bowl, but he was clearly absolutely gripped by nerves and was given a fearful hammering by Shane Watson.
Perhaps he was unfortunate to be bowling to Watson, who had taken him apart in the England Lions match at the weekend and clearly relished the opportunity to put him to the sword once again.
If you are a young and inexperienced player coming in, you are not always going to be on the money straight away, but part of being a sportsman is turning nerves into positive energy and making them work for you. Sadly for Kerrigan, his obvious anxiety had the opposite effect.
I have every sympathy for Kerrigan, having found my own Test debut quite an overwhelming experience.
It was here at The Oval against the West Indies in 1984, and when I watched the highlights at home I couldn't remember any of it. The game just sort of passed me by, I was lost in a blur.
For Kerrigan, everything was different to what he is used to: there was a big crowd, a huge media presence and he was playing in the Ashes against Australia - it was a massive step-up.
So, while it is tempting to dismiss his first day of Test cricket as a bit of a stinker, we should bear with him and give him a chance to put things right.
Woakes, who is auditioning for England's troublesome number six position, endured a similarly difficult start with the ball, but recovered to deliver a steady performance.
He doesn't have the pace or movement of James Anderson or Stuart Broad, but if he can just keep his bowling accurate, he could do a job as a third seamer.
The debate over England's team selection should not detract from a superb performance from Watson.
He has been up and down the batting order, but started positively and played some lovely shots. He showed some guts to come back after getting hit on the head by Stuart Broad and scored an excellent hundred.
One positive for England on an otherwise difficult day was seeing Australia captain Michael Clarke struggle with the short ball.
On harder pitches down under this winter, England could really exploit what looks like a clear weakness in the Australia captain's game.