Ashes 2013: Three is the magic number for Shane Watson

By Tom Fordyce
Chief sports writer
Last updated on .From the section Cricket65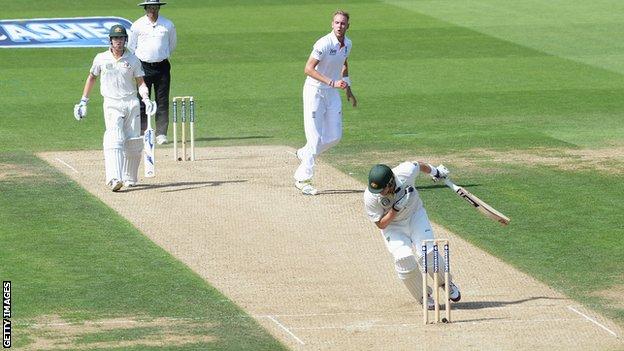 Shane Watson is a contradictory cricketer: loaded with muscle but prone to injury, the looks of a surfer but the careworn demeanour of an office slave, capable of both the most beautiful straight drive and the ugliest heave across the line.
Seldom in his eight-year Test career has he looked either settled or content. In the late knockings of this Ashes series, the overall contest already lost, he may at last have found his place.
For the past 12 months Watson has been a permanent impermanence in the Australian top order, batting in every slot from one to six. And in that time there has been a fair amount of pain - not one Test century in 47 innings, an endless succession of lbws only slightly less embarrassing than his decision to haplessly review so many of them.
On Wednesday, three became the magic number. Bumped up the order after the ditching of Usman Khawaja, he responded with a 176 that acted almost as a greatest hits compilation, a welcome to the World of Watson - thumping cover drives, rippling pulls, crashing back-foot shots of one-day direction whenever the slow bowlers dropped short.
His highest Test score by a clear 50 runs, it produced a scoreboard as unbalanced in its make-up as it was eventually dominant for Australia: 307-4 at the close, the 32-year-old responsible for almost 60% of the runs.
Watson has always been a great starter. If you want a brisk, attacking 30 or 40, he has always been your man. Boundaries off the new ball? No problem. Pace bowlers clouted back past their toes? Almost every time.
The issue has been in pushing on. The majority of batsmen look more secure the longer they spend at the crease. The longer Watson bats, the more certain his imminent demise appears.
In this series he has been at his maddening worst: a 13 and a 46, a 30 and 20, a 19 and 18 at Old Trafford and then 68 and 2 in Durham. There are few failures. There are even fewer genuine successes.
Nine times against England he has made a half-century without going on to the full three figures. No Australian Test batsman has had to wait as long.
His reaction when the moment finally came reflected that painful gestation. There were no wild celebrations, just blessed relief - arms out wide, eyes shut, head lifted to the heavens.
If few begrudged him that moment, he was aided at The Oval by an England selection that was at best optimistic and at worst a wayward gamble.
Debutant all-rounder Chris Woakes was as unthreatening as the cloudless August skies above. Left-arm spinner Simon Kerrigan could only wish for the same average anonymity.
Carted around by Watson in the morning, barely used in the afternoon and long evening, he endured the sort of nightmarish start that has finished other Test careers before they have really begun - eight overs bowled, 53 runs conceded, not a single chance created.
Sport has a cruel habit of taking away from us as much as it gives. So it was with the 24-year-old Kerrigan, delighted to receive his cap from Sir Ian Botham before play, hangdog and defeated a few hours later as his action crumbled under Watson's assault and long-hop followed full toss across The Oval boundary ropes.
Professional sportsmen daydream of the moment they first step out for their country. These are supposed to be celebratory moments cherished by family, friends and old team-mates. When the fantasy disintegrates so quickly, in such a public space, it is almost as painful for those watching as for the poor unfortunate struggling centre stage.
This group of England selectors are inherently cautious. Had Tim Bresnan not injured his back in the fourth Test, they may well have got through the entire series by using just 12 players.
The speculators have been Australia - Khawaja left out, called up and then ditched three matches later; teenager Ashton Agar plucked from Henley's first XI and then sent packing; Mitchell Starc in for the first Test, out for the second, in for the third, out for the fourth and back to shake it all about once more at The Oval.
That England chose to erase a winning formula here spoke of uncharacteristic experimentation more than dead-eyed ruthlessness. No-one present could imagine such an attack being wheeled out in the first three Tests of an Ashes series. Who wants 4-0? Spectators more than selectors, it might appear.
The last time England played two spinners in a home Test and won was 28 years ago, at the same ground against the same opposition. The twirlers selected back then, John Emburey and Phil Edmonds, returned combined match figures of 3-101. Since then England have used two spinners in a home Test 18 times, and not won a single one of them.
They are inauspicious auguries, just as The Oval is an unfavourable place for a bowler to make his debut.
Four of the last five England bowlers to make their Test bows here failed to extend their international careers past four games. Between them, James Ormond, Ed Giddins, Joey Benjamin and Neil Williams gathered just 20 Test scalps in their entire careers.
Woakes and Kerrigan will hope to never again be mentioned in the same breath.