Glamorgan: Robert Croft 'flattered' to be linked with head coach role
Last updated on .From the section Cricket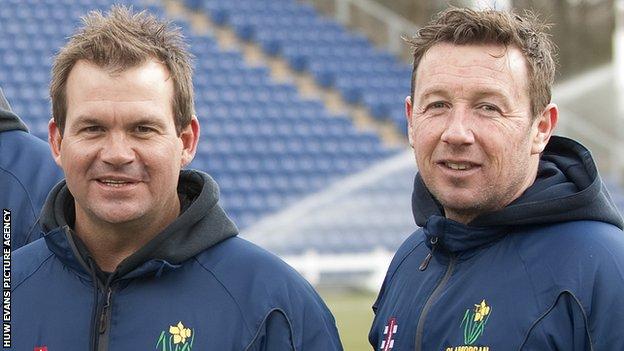 Ex-England spinner Robert Croft is flattered to have been linked with the head coach role at Glamorgan.
Croft is on Glamorgan's coaching staff having retired from cricket last year following a 23-year playing career.
But with Matthew Mott leaving his post as head of elite performance at the end of this season, Croft has been pushed forward as a potential successor.
"I'm obviously very flattered with what people have come out with and said over the last 24 hours," Croft said.
"But it really hasn't changed my psyche towards what my role is through this season and try and help the team win as many cricket matches as it can."
Former New South Wales coach Mott will return to his native Australia.
Mott, who joined Glamorgan in January 2011 and was appointed head of elite performance in February 2012, expects plenty of interest in the role he will vacate.
Ex-Glamorgan batsman Tony Cottey has said he wants to see former team-mate Croft succeed Mott.
Croft joined Glamorgan's backroom staff following his retirement in 2012 and says Mott's assistance has been invaluable in his fledgling coaching career.
The former England Test bowler said he would like to become a head coach at some stage of his career.
"I can only thank Matthew as much as possible for the way he's really brought me into the fold and what I've picked up from him," Croft added.
"Because it is a difficult transition from player to coach he's been there on my shoulder all the way, advising me and giving me all the help I needed this year.
"I've had a real buzz and enthusiasm. Next to playing it's the best job you could possibly do.
"If you can't do it yourself in the middle but seeing your mates and your players doing it, then it does give you that buzz and enthusiasm.
"I've really enjoyed it and am going to continue to enjoy the rest of the season and assist in the same way that I've done from the start of the year to the end of the year.
"I realise as a coach you start from zero and it's important that you build up your credibility as a coach.
"[You can't] expect players to look at you and think you are automatically going to be a good coach because you were a half tidy player.
"It's important that I gain players' respect, supporters' respect and coaching staff's respect."