Ashes 2013: England Oval Test performance deflating - Agnew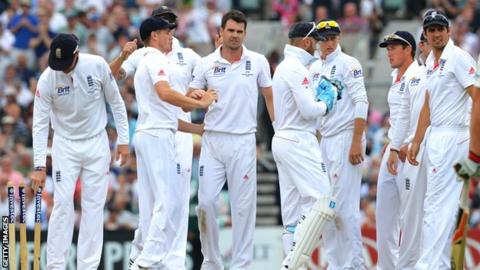 England have simply not been at the races in this fifth Test, and that is bitterly disappointing.
This has not felt like a celebration of an Ashes series won. Instead, we have been watching a side that looks significantly off the pace.
There was much bravado before this game about taking the series 4-0, about picking the best team to win the match, about how ruthless they intended to be. They haven't played like that at all.
Catches have been dropped. Reviews have been poor. The over rate has been dreadful.
Tiredness, whether it be physical or mental, cannot be an excuse. This is a Test match against Australia. You get up for it.
This England team does not appear to respond well to being on the back foot. They get a little stroppy, a little "we're taking our ball home with us".
They say that they are a win-at-all-costs outfit. They interpret playing hard as playing to give nothing away, so when they are behind in the match, they are happy to go ultra-defensive and attempt to slow the game right down.
I don't think that's right. They have a responsibility to the spectators playing £100 to watch them to play the game in the right way, and the booing we heard from the Oval crowd on Thursday afternoon reflects that.
Any team might try to do such a thing. You can equally argue that it is the umpires' job to prevent it. But it is the captain that initiates it, and it is an unedifying spectacle.
We must now look at the awarding of penalty runs to the opposition if a team allows their over rates to drop so badly, with the team captain put on a charge for bowling too slowly.
The umpires seem unable to do anything about. But it cannot be allowed to carry on.
I accept that teams build a group mentality by making villains of their critics. That can work as a motivating factor, as Gary Neville has told us about Sir Alex Ferguson's Manchester United teams.
But there must also be an honesty to their approach. Do the critics have a point?
At no point in these first two days have England looked like the dominant team, like an outfit pressing to win this series 4-0.
The performance only gives more ammunition to those Australians who say that the current 3-0 score does not accurately reflect the gap between these two teams.
Australia may indeed have lost these Ashes. But they have sorted out their issues nicely as it comes to an end.
Shane Watson is now inked in at three. Steve Smith is inked in at five. Both have been allowed here to make significant centuries that will put them in far better shape for the forthcoming series down under.
England, frankly, have picked a poor team for this Test.
I'm not having a go at the notion of changing the balance of the side; I quite like the idea of using five bowlers.
But they have to be the right five bowlers. They may have picked five here, but in reality Alastair Cook has had to use three.
Chris Woakes plugged away on Thursday, but he simply doesn't have an outstanding weapon to use at Test level.
Line and length will get you wickets in county cricket. Against good Test batsmen, on these sorts of good batting tracks, it is a different game. Will he have more success on Aussie pitches? You wouldn't think so.
For Simon Kerrigan, it was even worse.
He will have been desperate to have a go on Thursday. He would have woken up so determined to put right what went wrong in his eight overs on Wednesday.
Yet I don't blame Cook for not turning to him. It was overcast, a day for swing bowling. He didn't bowl Graeme Swann for most of the day. England never had control. Would you dare?
Had England not been going to Australia for another Ashes series in three months' time, I could accept a little experimentation here.
But they are, and they have done little to solve their problems. What do they do about the issues at six? Who they take as their second spinner?
People are disappointed with the team that was picked here, with the way they have played, with the lack of effort. Plenty have messaged me.
It has been a deflating performance, and once that I hope improves dramatically over the remaining days.
Jonathan Agnew was talking to BBC chief sports writer Tom Fordyce.