Ashes 2013: Darren Lehmann fined for Stuart Broad criticism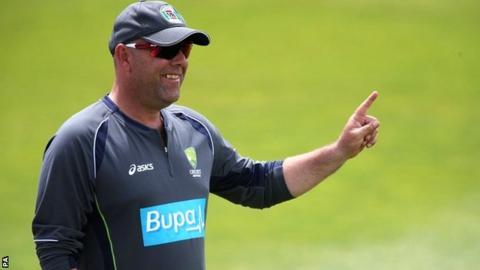 Australia coach Darren Lehmann has been fined 20% of his match fee for criticising England bowler Stuart Broad on an Australian radio programme.
Broad admitted he edged a ball and not did not walk in the first Test, which Lehmann said was "blatant cheating".
He added: "I hope the Australian public give it to him this [Australian] summer and I hope he cries and goes home."
Lehmann, 43, pleaded guilty to a charge of publicly criticising and making inappropriate comments.
But the radio station which broadcast the controversial interview said it will pay the fine.
In a statement on its website, Triple M said: "Triple M can't let Boof take all the blame for something that happened on our station. He's a mate and a great bloke and we'll be coughing up the match fine on his behalf."
Lehmann replaced Mickey Arthur as coach 16 days before the start of the Ashes series, in which Australia trail 3-0 with one Test remaining.
His comments about Broad were made on the eve of the final Test at The Oval.
Former batsman Lehmann, who played 27 Tests and 117 one-day internationals for Australia between 1996 and 2005, was found to have breached Article 2.1.7 of the International Cricket Council Code of Conduct for Players and Player Support Personnel.
Lehmann's acceptance of the charge and proposed sanction from ICC match referee Roshan Mahanama meant no formal hearing was needed.
ICC chief executive David Richardson said: "While noting the context and nature of the comments made, showing mutual respect for one's fellow professionals - including for coaches, players and match officials - is a cornerstone of how we play the game."
The range of permissible sanctions for all first Level 1 offences is a warning or reprimand and/or the imposition of a fine of up to 50% of the applicable match fee.