Ashes 2013: David Saker defends England team selection for Oval
By Sam Sheringham
BBC Sport at The Oval
Last updated on .From the section Cricket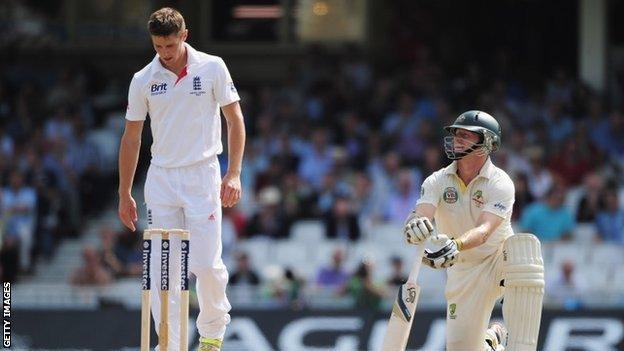 Bowling coach David Saker defended England's selection for the final Ashes Test despite a second chastening day.
England were 32-0 to trail by 460 after two days, but Saker says they can still secure a first 4-0 Ashes series win.
"We picked a team to win the match and I think, two days in, it's harsh to say we haven't got it right," he said.
All-rounder Woakes took the wicket of James Faulkner in his 23rd over to finish with 1-96, while left-arm spinner Kerrigan returned figures of 0-53 from his eight overs.
Saker added: "At the end of the fifth day you can probably write what you want but if Simon Kerrigan bowls us to victory on day five that would be a bit of a feel-good story for a lot of people.
"We still believe we can win the match. We are going to try to go out there and put on a big score.
"They are in a strong position. They have batted really well for two days but we know, with the Oval wicket, it can sometimes dry out and become something of a turner.
"That is why we have picked two spinners and, if we can bat well enough for long enough, the game is still on. They'll be desperate to win and we are desperate to win 4-0, so there could easily be a result."
Saker also defended England's approach after the crowd became frustrated by their slow over-rate on a day that had been delayed by rain.
Rather than engaging in a deliberate ploy to take time out of the game and put back Australia's declaration, Saker said England were trying to contend with the effects of a wet outfield and deflected any criticism onto the umpires.
"If the ball is wet there is only one team that can win and that is the batting team," said Saker. "All they were trying to do was dry the ball. Most of the educated crowd would have known that, some of them wouldn't.
"It wasn't wet enough to come off but the umpires should be changing the ball in those situations. It's good that we are out there playing, but as soon as the ball becomes wetter, it becomes a pretty uneven contest."
After Shane Watson's brilliant 176 dominated day one, Steve Smith was the tourists' star performer on the second day with an unbeaten 138.
The 24-year-old brought up his first Test century in style by launching Jonathan Trott for a straight six.
"I was a bit nervous after getting out for 89 at Old Trafford but I had a chat with Brad Haddin and said with "Trotty" bowling I thought I'd give it a go," said Smith.
"I'm very happy to get the hundred under my belt, I feel like my game's going OK at the moment, I'm probably leaving the ball better than I have done before.
"The pitch is still pretty good; while the ball is still hard it will be important to take a few wickets in the morning."