Murray Goodwin pleads for longer Glamorgan contract
Last updated on .From the section Cricket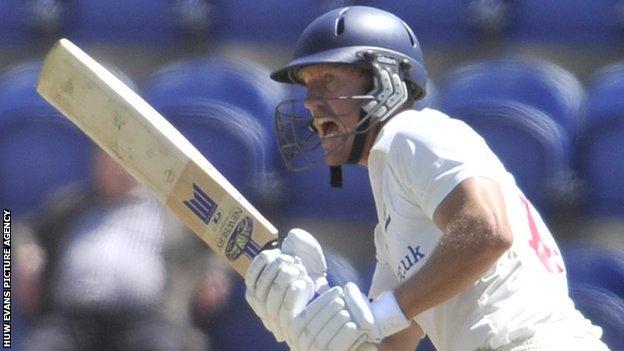 Murray Goodwin is hoping that his batting performances will persuade Glamorgan to offer him a longer deal.
The 40-year-old Zimbabwean's run average is above 56 in the County Championship this season and his on day two in Swansea.
Goodwin's achievements have automatically activated a one-year extension, but he wants an extra year.
"I was under the impression we could renegotiate," Goodwin said.
"So there was a bit of confusion in our talks, but I'm hoping that the club is still willing to negotiate because I don't want to actively pursue another club.
"I've made the commitment here, I've enjoyed my time here."
Goodwin is on a one-year contract with Glamorgan in spite of asking for a two-year deal when he joined from Sussex.
His performances mean he has been offered a further year with the Welsh county, but Goodwin is hoping that he can have the security of a longer deal at a place he feels settled.
"I know the players in general have accepted me, but I can actually see us slowly making good progress. I know the results haven't shown that," Goodwin added.
"It's very difficult for someone to come in for one year - or even two years - and try and have an impact.
"It's like having a coach come in; he has to have two, three or whatever years to make any significant impact.
"That's how I see it not only from the playing side of things, but what I bring with experience and talking to the players... it's not just runs on the board it's an all-round package."
Goodwin was brought in by head of elite performance Matthew Mott and although Goodwin would like to remain in south Wales.
"I'm not one of those guys who wants to jump from club to club. My son is playing under-11s for Wales, loving it," Goodwin said.
"There's a great feeling amongst our family because we've got relatives in Ammanford [in Carmarthenshire].
"It was just a good feel to come here although I did take a pretty significant pay cut to come here."