Ashes 2013: Pedestrian England losing momentum to Australia

By Tom Fordyce
Chief sports writer
Last updated on .From the section Cricket356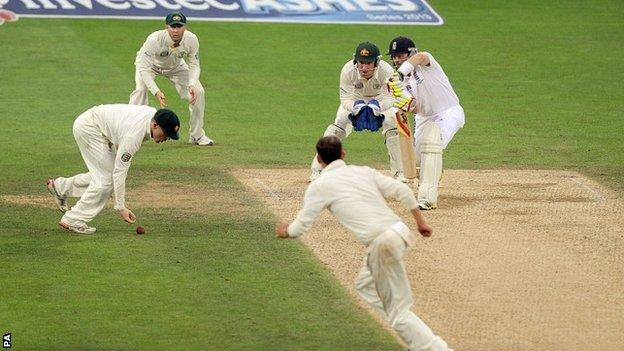 This final Test was supposed to feel like a celebration for England, a sold-out stationary parade to rejoice in an Ashes series not just won but dominated.
Instead, with Australia on top and England sometimes pedestrian and often parked, it has had the air of a half-empty kitchen after a raucous house party: the fun parts long gone, the mood flat, a realisation in the air that everyone should probably stop drinking Blue Curacao and just go home to sleep it all off.
It shouldn't make sense. To be leading an Ashes series 3-0 is sufficiently rare to be cherished, regardless of the way it comes to an end. Those raised on a diet of hammerings and humiliations could once barely believe such a scoreline might ever come to pass.
So why the long faces and quiet voices? England may have scored slowly on Friday as they attempted to grind towards the follow-on target - a mere 65 runs in a moribund morning session, a sedentary afternoon when the run-rate barely edged above two, just 66 in 34 overs in the evening - but the excuses are not hard to find.
Rule number one of Test batting: don't give your wicket away. If it looks like you can't win the match, make sure you don't lose it. Never take your foot from the snake's neck. In Alastair Cook, Joe Root and Jonathan Trott, they also have a top three all struggling for form.
But there is being practical, and there is being passive. As the day drifted, and the crowds snoozed, the question kept banging around the brain: would Ricky Ponting have let his all-conquering team play at this pace in 2006-07, or Steve Waugh in 2001?
Waugh liked to challenge his team in such dominant situations. Let's win this Test in three days. Let's score at four an over. Let's reduce this rabble to rubble.
That's easier to say and do when your entire top six average at least 45 and your bowling attack all average less than 25. Yet England's last three Ashes triumphs have also been based around positive intent.
In 2005, their average run-rate over the series was 3.8, in 2009 3.7, in 2010-11 3.5. In this series so far, they have scored instead at 2.8.
Pitches have been slow and sometimes low this summer. But even Australia, with a batting line-up far less accustomed to English conditions and prone to calamitous collapse, have rumbled along at an average of 3.3 runs an over.
Neither have England scored a weight of runs to match those recent examples. They will have to score an unlikely 400 more in the remainder of this dying game to match the aggregate of 2005 - made against a superior attack - and 300 to find parity with 2009.
These numbers may pale in importance compared to that all-important 3-0. But while this series will end at some point over the weekend, its sequel begins in less than three months' time.
Patterns established here may prove hard to shift come the Gabba in November. Momentum, once entirely with England, may be drifting away.
"Friday was a reflection of the way England have gone into the entire match," says Mark Butcher, four times on the wrong end of crushing Ashes series defeats in his 71 Tests and here at The Oval as an expert summariser for the BBC.
"England could and should have totally demoralised this Aussie team. The intention should have been to humiliate them, to bury them, just as Ricky Ponting vowed to do in the aftermath of 2005. Instead they have left them feeling comfortable.
"It doesn't feel good. It doesn't feel like a victory parade. Australia will return home not with their tails between their legs but thinking they don't actually have as much to worry about down under as they first thought."
Heavy rain is forecast for much of Saturday. With England 247-4 at the close on Friday, fewer than 50 runs from avoiding the follow-on, a draw is almost certain.
At The Oval four years ago, England only took the upper hand in the series on the penultimate day of the series. Eight years ago, that most glorious of summers was only sealed in the final session of the final day.
But Butcher, like many others, does not expect wild celebrations this time around at a far more comfortable margin of success.
"The disappointing thing from the fans' point of view is that, while 3-0 sounds like a drubbing, Australia will come out of this series with much more credit than that scoreline suggests," he says.
"If Friday were the first day of play you had seen all series, you would have assumed that Australia were the team 3-0 up, not England.
"It might all mean nothing come the first day in Brisbane. But England might have turned up with Australia in total disarray, with no idea what their top six was. Instead, Shane Watson and Steve Smith have been allowed to get set, and Michael Clarke's lack of form has not been so exposed.
"Perhaps the pitch has got a little slower since the first day. But there has been a lack of intent about England's play, and the initial team selection was bizarre.
"It meant that the usual tactics here at The Oval if you lose the toss - try to bowl the opposition out for less than 300, bat past them, pile on the pressure in the third innings - couldn't happen.
"Once Australia went past 450, England will have looked at Saturday's poor forecast, reasoned they were unlikely to win the game, and thought: we don't need to do anything here. Let's just bat it out.
"It's the professional approach. But it's the professional in the worst sense."
Perhaps this is all just carping. Perhaps we should all just break out the party poppers and plastic horns and revel in the unfamiliar fun of three Ashes series won on the bounce, of three series wins in three for Alastair Cook.
Let the Ashes down under wait until November. Perhaps.