Ashes 2013: Captaincy taking its toll on Alastair Cook - Agnew

By Jonathan Agnew
BBC cricket correspondent
Last updated on .From the section Cricket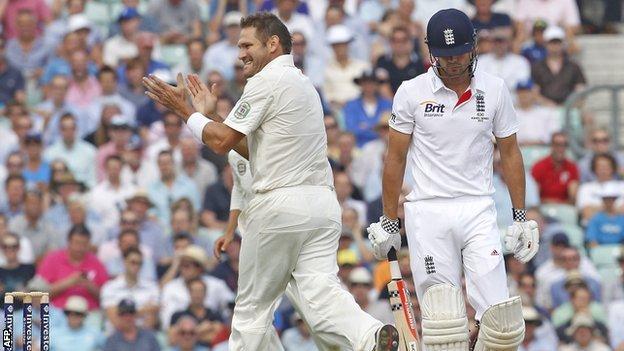 Alastair Cook's latest failure with the bat suggests to me that the demands of captaincy are starting to take their toll.
When you are a captain, you have to be thinking all the time in the field. In Cook's case, you then get 10 minutes between innings and you are out there again opening the batting.
Cook has been an opener for years and will be accustomed to the quick turnaround, but it is the mental demands of captaining in the field that makes things that much more draining.
Then you add in everything Cook has had to contend away from the cricket. Between the third and fourth Tests in Manchester and Durham, he could have had two days off, but instead found himself dealing with ridiculous accusations about players using tape on their bats to fool the third umpire, and in meetings with the ICC about Hot Spot.
It is very, very hard work both on and off the field and eventually it has to take its toll.
Cook will insist that he hasn't been affected by leadership, and that he is simply going through a bad patch of form.
But if we are looking for ways to explain how somebody who is normally so prolific is not posting big scores, then the demands of the captaincy have to be a factor.
On Friday, Cook actually played quite well to reach 25, but was caught behind after dangling his bat at a ball from Ryan Harris that he really didn't need to be playing at.
The end of the summer will give Cook a great chance to get the rest and recuperation he needs before the return Ashes series and I don't expect him to find things nearly so taxing down under.
When you are a touring captain, there is just not quite so much attention on you. The team tends to be more of a unit. There isn't the same focus or inflated expectation levels.
Cook will relish the challenge of captaining England down under and have such fond memories of his last series there that I'm sure his form will come back.
Cook's most successful accomplice during England's 2010-11 Ashes triumph was Jonathan Trott, another batsmen still groping for his best form.
Australia are fully aware that the Warwickshire batsman's strength is playing through midwicket. They have positioned extra fielders on the leg side and forced him into trying to score in areas where is less comfortable.
Eventually he will get frustrated, and so it proved on Friday as he played across a ball on leg stump and was out lbw to Mitchell Starc.
Trott's painstaking 40 off 134 balls was typical of England's safety-first approach on day three at The Oval.
They knew that with rain forecast for Saturday, they had little chance of winning the game so they battened down the hatches and made sure that they didn't give their wickets away.
Their approach did not lead to the most entertaining cricket. At times it became incredibly tedious and must have been very frustrating for a sell-out crowd.
But sometimes in Test cricket, the most professional approach in a match you can't win is just to make sure that you don't lose.
Even Ashes cricket can be dull sometimes.
Jonathan Agnew was talking to BBC Sport's Sam Sheringham.