Ashes 2013-14: Who's on the plane to Australia?
Last updated on .From the section Cricket243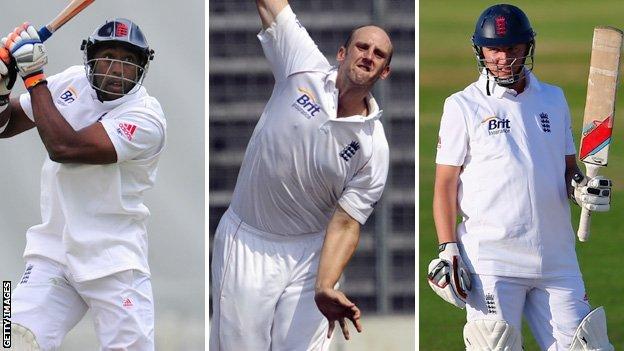 Test Match Special's commentators and pundits selected their England tour party for this winter's Ashes series in Australia while the rain fell during the final Test at The Oval.
Former England batsman Ed Smith chaired the selection panel, which contained ex-England skipper Michael Vaughan, former England spinner Phil Tufnell and ex-Australia batsman Damien Martyn - and they picked a 17-strong squad, working on the assumption that England will also take a second-string Lions squad to Australia as back-up.
Have a look at their selections - and pick your tour party using the comments facility.
Batsmen
The top five in the current Test side and wicketkeeper Matt Prior were all unanimous choices - leaving the selectors to discuss the number six position, with a reserve batsman and a reserve keeper also needed.
MV: Looking ahead to the first Test at Brisbane, you know what the surface will be like, it's not changed for 20 years. It will be a hammer blow to James Taylor, but I'd go with Gary Ballance, who has scored 959 first-class runs at 63 this season, at number six. People will say "Yorkshire bias", but he's a class act off the back foot and I like a left-hand option in the middle order. And Jonny Bairstow as reserve keeper.
PT: Michael Carberry's earned his chance, but for me, Nick Compton has deserved another go - he's scored runs recently, take him on the tour. And Bairstow as the replacement keeper.
MV: I'd have Carberry as back-up batsman. With the Root-Cook situation at the top of the order, if there's a problem there or if Cook gets injured, Carberry would play - and he can bat in the middle order as well.
ES: If Carberry is in the squad, is there a place for James Taylor? He doesn't have a big advocate that is making his case all the time [in the media].
PT: Or do you stick a youngster in there to get them involved?
MV: I want players who will be involved in all formats, which is why I want Ballance. With respect to Taylor, he wasn't even on England's radar when they picked that Twenty20 squad against New Zealand that was nearly a second XI.
Selected: Alastair Cook (capt), Joe Root, Jonathan Trott, Kevin Pietersen, Ian Bell, Gary Ballance, Michael Carberry, Matt Prior (wk), Jonny Bairstow (wk)
Spin bowlers
With Graeme Swann an automatic pick, who should be the second spinner?
ES: I'm very reluctant not to take Simon Kerrigan on the full tour. If you play in the final Test of a summer and only bowl eight overs, is that enough for England to decide to drop him?
MV: Kerrigan's got to get away from this environment for a while. I'm sure he could be Graeme Swann's replacement in time, but I think he needs to go back and work with Lancashire and the England Lions. He's a work in progress.
DM: I'd go with Monty Panesar. I'd love to see him play if they go with two spinners.
MV: Swann's replacement, if he got an injury on the morning of the game, should be James Tredwell. Monty would be with the England Lions squad in Australia as I'd need to know whether he's right or wrong. They need to find out more about him - if he goes well, you could bring him into the squad.
ES: I'm a big admirer of Tredwell, I've played a lot of cricket with him and he's the sort of player who will always get on a plane, turn up for you and never let you down. But what if you get a big turning wicket anywhere?
PT: I don't think you're going to play two spinners in any of the Tests, so you don't need a left-arm and right-arm spinner. I'd go with Tredwell - take Kerrigan with the Lions squad. Tredwell's never let anyone down.
ES: I might even take three spinners, but I don't want to burden Panesar with a full England tour as he needs to get himself back together and get bowling for the Lions.
MV: Tredwell's almost jumped ahead of Swann in one-day cricket, and he can bat a bit. Adil Rashid's had a good year for Yorkshire, but he's not done enough. A leg-spinner might be a nice luxury to bowl at the other end from Swann, but he's not ready yet.
Selected: Graeme Swann, James Tredwell (with Monty Panesar and Simon Kerrigan to go on the Lions tour)
Pace bowlers
James Anderson and Stuart Broad are automatic choices - but which other seamers should join them?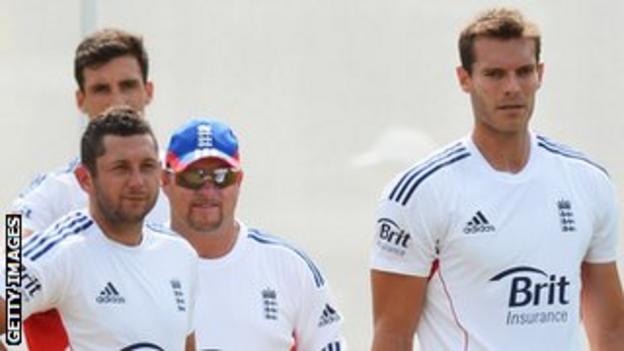 DM: I'd love to see Chris Tremlett steaming in, he did well in Australia last time. I think both sides in this series will have great attacks.
MV: I'm sure Tim Bresnan will be fit. My first-choice attack would be Anderson, Broad, Bresnan and Swann, with the back-up being Tremlett, Finn, Onions and Tredwell.
DM: I think you need six fast bowlers, whether they're part of the squad or with the Lions elsewhere in Australia where they're only a short flight away.
MV: They can have a look at Tremlett to see if he's bowling well in the warm-up games. And if Finn's not playing in the Tests, he could be sent to the Lions for practice.
Selected: James Anderson, Stuart Broad, Tim Bresnan, Chris Tremlett, Steven Finn, Graham Onions
What about the Aussies?
Damien Martyn was then asked to pick his Australia XI for the first Test at Brisbane...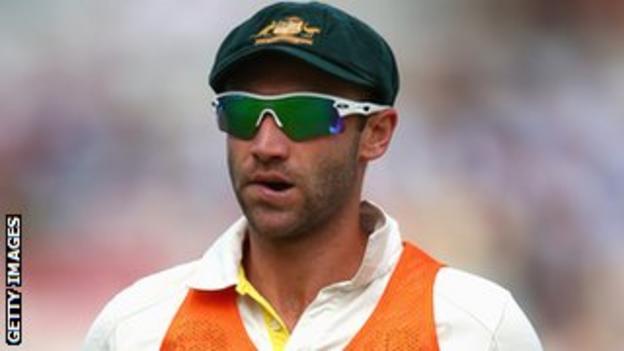 DM: I would recall Phillip Hughes at number five, with Steve Smith moving down to six, where I think he can bat more freely. I don't want Brad Haddin batting at six - it never worked for us with Adam Gilchrist at six. There will be a lot of one-day cricket before then, such as the one-day series in India, but I hope Hughes can get some first-class cricket in. Shaun Marsh is making runs so I think he'll be around the squad, but Usman Khawaja needs to go back to first-class cricket and make runs.
MV: Hughes has actually topped the tour averages, from all games. And Sam Robson could play for either team!
DM: The bowling attack would be Lyon, Siddle, Harris and Starc, although maybe Mitchell Johnson will be around the set-up. I think James Pattinson's injury will rule him out, but if he's fit I'd have him in ahead of Starc. Fawad Ahmed could have a chance at some stage, but I don't think we'll play two spinners.
Selected: Chris Rogers, David Warner, Shane Watson, Michael Clarke (capt), Phillip Hughes, Steve Smith, Brad Haddin (wk), Peter Siddle, Mitchell Starc, Ryan Harris, Nathan Lyon