Ashes 2013: Unloved England have problems to solve

By Jonathan Agnew
BBC cricket correspondent
Last updated on .From the section Cricket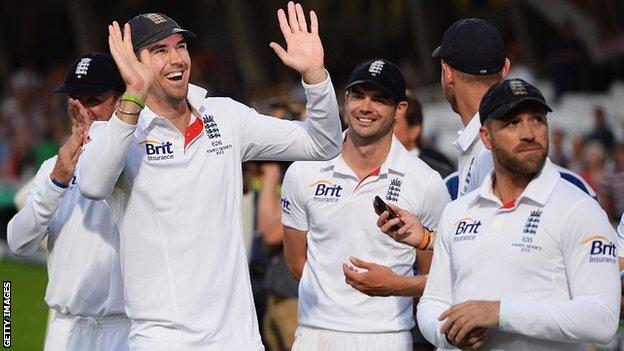 And so, as England celebrate a deserved 3-0 Ashes series win, a few questions spring to mind.
Where do we rank this team against other Ashes winners of recent pedigree? How good can they go on to be? What do they need to work on before the first day at the Gabba in late November?
I don't think we will see this team of 2013 feted with the same tributes as the sides of 2005 and 2009. It hasn't been that sort of performance.
Wicketkeeper Matt Prior has said that he doesn't think England are that loved. I take that to mean that he almost sees it as a compliment - that they are hard-nosed, aggressive, nasty to play against.
I think he's right, but not necessarily for those reasons. England are hard-nosed, but not in a flattering way. Even when you are playing hard, you have to give something back to the game. Results are clearly paramount. Equally, the style in which you achieve them matters too.
England have the mindset that to be successful you have to play cricket this way. We've seen it pop up all in summer - in the walking/not walking debate, in the slow over-rates, in the often slow run-rates.
That's nonsense. Of course you can play in other ways. Because this England team play the way they do, it may be that they won't go down as a particularly popular outfit - certainly not as popular as the sides of 2005 and 2009.
That's up to them. They can play the game the way they like.
But there is a balance between the requirement, as professionals, to go as hard as you can for the win, and the style in which you attempt to achieve that goal.
It is a question of the way you believe you should play, and of the legacy you want to leave.
There have been moments in this series when they could have lost every match. They will say that this proves what a strong team they are, which is also true.
It's a difficult balancing act. They will get crotchety for people mentioning it, but until Michael Clarke's generous declaration on the final afternoon at The Oval changed the course of the fifth Test, the series was heading for a rather flat finish.
England will still go to Australia as slight favourites to win the forthcoming Ashes series down under. But they will not be anywhere near as clear favourites as might have been anticipated after they won the second Test at Lord's so handsomely.
They would have lost at Old Trafford had the weather held. At Durham they were struggling for long periods. And that early series momentum has therefore been lost.
It can be picked up again. They will rest up after this summer, build up for the first tour match in Perth, and then have to be right on the money for the game against Australia A in Hobart that precedes the first Test.
It will be fascinating to see how it goes. How do they get that initiative back?
They still don't seem to know who will bat at six. They're not certain who their first-choice third seamer is.

You would imagine Jonny Bairstow is the best answer to the first conundrum, so why didn't he play at The Oval, to attempt to make some runs to secure his place?
James Taylor might go to Australia. Nick Compton might go. These things are dotted around England's thinking, more pressing now than they were at the start of the series.
It's a strange thing, but a team that has won the series 3-0 will end it with more problems to solve than they had before it all began.
You often hear in sport about positives being taken from poor situations, but it is entirely true for Australia now.
Shane Watson has found his home at three. Steve Smith can kick on his Test career. Nathan Lyon has gone from strength to strength, and proved he can both tie an end up and take wickets.
They have had injury issues with their fast bowlers. But Ryan Harris and Peter Siddle have been excellent, and they have plenty of options. This attack will be threatening on home soil.
Perhaps we should not criticise a team that has won by this statistical margin. England have done what they set out to do. I have even got my pre-series prediction right.
Yet it has not been a thoroughly convincing performance, and if they are honest they will know that. Both team director Andy Flower and captain Alastair Cook take that approach, and they will look hard at the areas they need to improve.
Going forward, this team must continue to evolve. Graeme Swann's future seems more short-term now, and no-one really knows how long Kevin Pietersen will be around for.
While a story circulated on Sunday that Flower might leave his post after this winter's tour, I can't see that happening. He has cut the job to manageable proportions, got his young family settled, set up a winning team and secured one of the best jobs in the business.
His challenge is to manage the changes there must be to this England team over the next two years. It will be a big job, but after his third Ashes series win in three attempts, we should not back against his success.