Ashes 2013: Snicko could be used in winter series - ICC chief
Last updated on .From the section Cricket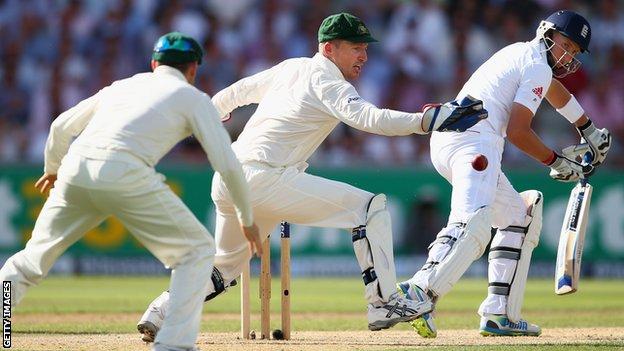 Umpiring aid Snicko could be used in this winter's Ashes series between England and hosts Australia.
International Cricket Council chief executive Dave Richardson says the use of Snicko - which detects edges using sound - will be considered following problems with technology this summer.
There have been calls for thermal-imaging system Hot Spot to be scrapped.
"Snicko will probably be the first bit of technology introduced - it's always been reliable," said Richardson.
Snicko uses sound from stump microphones to help detect if a batsman has edged the ball.
The technology has not been available to third umpires this summer because there is too much of a delay in synchronising television pictures with the sound provided by the microphones, but a new real-time Snicko is currently being tested.
"Without getting too technical it's quite an involved process to make sure the sound gets to you at the same time [as the TV pictures] and is synchronised perfectly with where the ball is," Richardson told BBC Radio 5 live's Sportsweek programme.
There have been a number of high-profile umpiring mistakes which have not been corrected despite using the decision review system - where teams can refer decisions made on the field to the third umpire - during this summer's Ashes.
Following the first Test at Trent Bridge, the ICC had to admit Jonathan Trott should not have been given out lbw after getting an inside edge.
Trott was initially given not out, but was dismissed by third umpire Marais Erasmus when Australia used DRS, because a key Hot Spot camera angle was not available to the South African.
Later in the same match, England's Stuart Broad edged to first slip, via a deflection off the wicketkeeper, but he was given not out and the decision stood because Australia had used up both of their allotted reviews.
Richardson is keen for a review of DRS, but pointed out that technology has enabled the umpires to get more decisions right than if they did not have access to it.
"What we need to do now is to take stock, review the statistics," said Richardson. "Looking back over the five Tests this summer, without DRS we would have had a correct decision rate of about 91% , which is lower than we would have liked and lower than the average, but with DRS we ended up with the correct decisions up around 97%.
"I don't think a 100% success rate is achievable because technology can sometimes fail and the umpires, even with technology, might make a mistake where judgement is concerned."
Real-time Snicko is expected to be the first piece of new technology implemented, possibly alongside Hot Spot.
"The good thing with Hot Spot is that when there is a mark we know there is an edge," said Richardson. "Sometimes it doesn't pick up the faint edges, we know that. It's going to help get us to 97% but not 100% at the moment.
"There are meetings coming up in September and they could have the authority to sanction Snicko's use."