Ashes 2013: Alastair Cook savours 'dream' winning feeling
By Sam Sheringham
BBC Sport at The Oval
Last updated on .From the section Cricket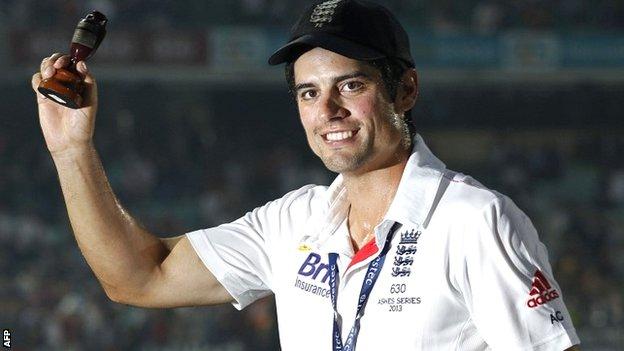 England captain Alastair Cook hailed his team's 3-0 Ashes triumph over Australia as "what dreams are made of".
But the result still ensured a third straight Ashes series victory for England and Cook's first as captain of the side.
"It's an incredible feeling," said Cook after lifting the Ashes urn.
"At the beginning of the series, a lot of questions were asked of this England team. Would we be able to handle pressure of being favourites? Would we be able to live up to that expectation?
"To be able to deliver under that, I think we can have a good beer tonight and enjoy some very special scenes in the dressing room. It is what dreams are made of."
England, who won the Tests at Trent Bridge, Lord's and Durham, appeared on course for a 4-0 victory after Michael Clarke's generous declaration had set them a target of 227 in 44 overs.
But, with the hosts in sight of victory and five wickets still in hand, the umpires took the players off for bad light to end the match as a draw.
While frustrated to have been denied England's first 4-0 Ashes win, Cook said he understood the umpires were applying the laws of the game.
"Unfortunately officials sometimes have to take the emotion out of the game," he said.
"They have got to do their job and be fair to be both sides. It's disappointing to be sitting here when we thought we had got ourselves in a position to win, but I understand the umpires' decision."
Cook, who has now won three of his four Test series since succeeding Andrew Strauss as England's permanent skipper last year, said overseeing a five-Test Ashes campaign had been draining.
"At the beginning of the series, you speak to a few guys, they give you advice and say it will be mentally tough, but. until you go through it as a captain. you don't realise how tough it is," said Cook.
"It has been an intense time, but also a very proud time for me.
"When runs needed to be scored, they were scored and when wickets needed to be taken, they have been taken. hat is the hallmark of a good side. We are proving to be incredibly tough to beat."
Batsman Ian Bell, named man of the series for his three centuries, said the victory was "right up there" with England's Ashes successes in 2005, 2009 and 2010-11.
"On a personal note, it's nice to contribute," he added. "Going into the series, I was low on scores - I kept getting caught in the covers - but to get hundreds helped the team win some Test matches.
"As the series went on, I got better and better. I don't think I was very good back in 2005, but I learnt some big lessons in that series.
"I am a more senior player now and I am contributing more. It's been a tough battle and we're all looking forward to a break from Test cricket."