New Glamorgan chief Hugh Morris wants more Welsh talent at county
Last updated on .From the section Cricket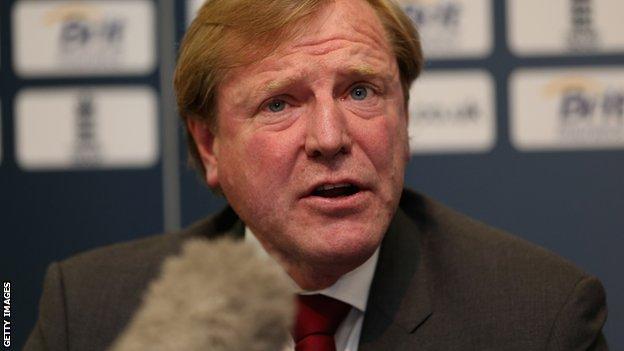 New Glamorgan chief Hugh Morris says he wants to restore a Welsh identity to the county team.
"We have got to develop our own talent. I think that's very important. I was lucky to play in a Glamorgan side the spine of which was Welsh," said Morris.
"That's something I'll be focusing very hard on with the coaching staff."
Currently there is a strong Australian element in the county's first team - including the likes of Marcus North, Michael Hogan, Jim Allenby and Stewart Walters - with only about half the players from Wales.
Morris was appointed to his new Glamorgan posts on Monday, taking over from chief executive Alan Hamer, who will leave at the end of the season.
It will be Morris's first return to the club since he retired as a player in 1997 to join the England and Wales Cricket Board, following a career in which he scored 19,785 first-class runs, including 53 centuries, and played three Tests for England.
"First and foremost we are a cricket club and a very proud one, and I think it's important we make the Welsh nation proud of what we do on the field," he said.
"Performances are what we are judged by and I think there have been - looking from afar - some good strides.
"I think there are some good players at the club. I'm really encouraged by that. It was really good to see [off-spinner] Andrew Salter starting off so well at Swansea last week."
Morris, who in 1986 he became Glamorgan's youngest captain at the age of 22, led Glamorgan to the Sunday League title in 1993 - the county's first trophy in 29 years - and played an important role in their 1997 County Championship success.
He said he was relishing his return. "It's a club that's clearly close to my heart as a player and a follower," he said.
"I've had 16 great years at the ECB. I've enjoyed every minute of it, particularly the last six years in my current role of managing director of England cricket.
"I think all good things come to an end and it's an opportunity to hand the reins over to someone else.
"I feel now the time is right. There's an opportunity to come back to Glamorgan which has been presented by [Glamorgan chairman] Barry [O'Brien] and the committee and I'm really looking forward to it."