Minor Counties Trophy final: Oliver proud to play at Wormsley
Last updated on .From the section Cricket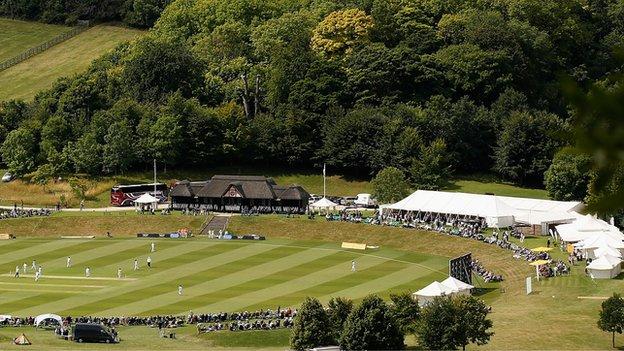 Richard Oliver will not forget Shropshire's last visit to the MCCA Trophy final in 2010.
Shropshire are back in the final on Wednesday when they take on Berkshire at Wormsley, in rural Buckinghamshire.
And this time Oliver is a shoe-in, as captain of the Shropshire team.
In his first season as skipper, he has already led his side to third place in the Minor Counties Championship, denied the Western Division title only by defeat by Berkshire in a badly rain-affected game at Whitchurch earlier this month.
And, although admitting that his team are disappointed to once again be denied the chance of playing in a Lord's final, the venue for all but five of the last 25 Trophy finals, he could not be happier about leading Shropshire at the picturesque private ground of the late cricket lover Sir Paul Getty.
"I was dropped for the final at Chester-le-Street three years ago," Oliver told BBC Radio Shropshire. "That hurt me very hard. But it made me determined to come back from that. And to be leading the team now makes me pretty proud.
"I know the boys are hugely disappointed not to be playing at Lord's but, once they get to Wormsley, they won't be.
"This is a hidden gem. The home of cricket outside Lord's, surely.
"It's everything anyone might imagine of a typically English setting - thatched roof, immaculate outfield, cream teas, marquee in the corner, even a red phone box!"
Shropshire, coached by former Yorkshire left-hander Kevin Sharp, had an outside chance of winning two trophies ahead of their final Minor Counties Western Division game against Cheshire at Nantwich a fortnight ago.
But their dreams of only a second Minor Counties Championship title - 40 years on from their first in 1973 - were shattered by the end of the second day thanks to Wales' victory over bottom side Dorset.
And Berkshire now have the psychological advantage of knowing that they are the only team to have inflicted defeat on Shropshire in 12 competitive outings this summer.
"That one was almost a one-day game, due to the weather," said Berkshire captain James Morris.
"But we managed to strike a psychological blow by winning. And now there's a huge amount of excitement.
"We're a very young team, but with some real experience. I've been playing for more than 10 years now, David Barnes has had 10 years of Minor Counties cricket and we have Richard Logan in his second spell with us."
This will be a third final in 10 years for Berkshire, who beat Northumberland at Lord's in 2004, before doing the same to Hertfordshire back in St John's Wood in 2011.
But, especially given the fact that the Getty ground is so handily placed for his side, just a few miles from the Berkshire border, a little further along the leafy Chiltern Hills ridge, south of Stokenchurch, he too is more than happy to be playing there.
"It hasn't got the grandeur of Lord's, with all the stands around you," Morris told BBC Radio Berkshire. "But I've played before at Wormsley and you still feel like you're playing in a very special place."
Although Oswestry's Jon Miles is not fit enough to be included, Shropshire have named a 13-man squad, featuring seamer Ben Sanderson and spinner Elliot Green, who both missed last week's drawn final Championship match against Cheshire.
Shropshire (from): Richard Oliver (Shifnal) capt, Mike Barnard, Tom Cox, Ed Foster, Rob Foster, Elliot Green, Anthony Parker (Shrewsbury), Omar Ali, Dan Bowen (Whitchurch), James Ralph, Jono Whitney (Bridgnorth), Ben Sanderson (Rotherham Town), Chris Murtagh (Reigate Priory).