Shropshire have reason to be positive - Toby Shaw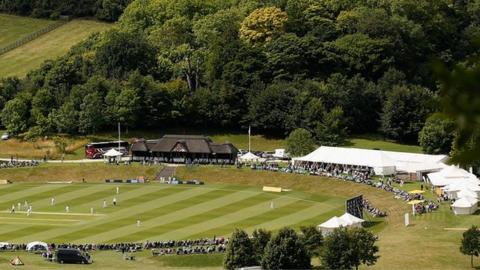 Chairman Toby Shaw believes Shropshire have reason to be positive, despite being humbled in the MCCA Trophy final against Berkshire at Wormsley.
As well as reaching the Trophy final, Shropshire finished in third in the Western Division this term.
"We can't lose sight of the fact we've had a very good season and have the nucleus of a very good side," Shaw told BBC Radio Shropshire.
"Whilst we're disappointed, I can see some good benefits for next season."
Shropshire's 128-run loss on Wednesday came after they were denied the Minor Counties Championship Western Division title only by defeat against the same opponents in a game heavily affected by rain at Whitchurch.
And after coming agonisingly close to two trophies this term, Shaw feels the county have developed strong foundations to help them move forward.
"We are [bringing through young players] and at the end of the day that's going to be the backbone of Shropshire cricket in the future," he commented.
"We're expanding our squad, we've got a greater number of players we can choose from, and therefore that leads to competition and greater performances on the field."