Stephen Moore: Welcome to the county run-in

By Stephen Moore
Lancashire opening batsman
Last updated on .From the section Cricket7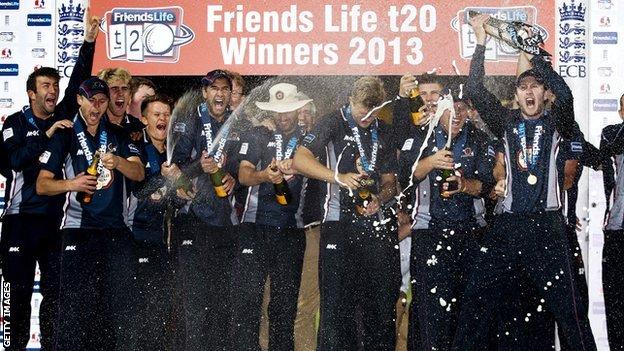 Watching the FLt20 finals day at Edgbaston a couple of weekends ago brought home to me that we have now entered the really exciting part of the county cricket season.
As a player you spend many hours over the winter preparing, either in a cold indoor centre, or for the more fortunate in warmer climates around the world.
You then have four months of highly competitive cricket in conditions varying from near arctic in April, to Jakarta in July, but you have nothing to show for your efforts. A successful season boils down to the next few weeks.
Northamptonshire have a well-deserved first trophy of the season in their cabinet.
We at Lancashire would have loved to have been at finals day to compete with them, but however hard it was to lose by a couple of runs to Hampshire chasing over 200 in the quarter-finals, it is always a privilege to be involved in matches of that competitive standard.
This perspective is not as easily seen in the hours or days after the event.
Narrowly missing out on success often drives teams and individuals on to greater heights by fuelling their desire and desperation, as was shown by Warwickshire winning the County Championship last summer after missing out to us the previous season.
Having narrowly lost out on a place in the semi-finals of the YB40, promotion back to Division One of the County Championship now becomes our focus.
That was one of our main objectives at the start of the season and in the eyes of players and counties, the prestige of this competition makes it the premier trophy.
To be crowned Division One champions is something we tasted two years ago, and something we are desperate to repeat again.
We need two more wins to ensure our promotion, but we want to go a step further by winning the Division Two title in preparation for next season.
Northants will be high from their FLt20 trophy so are going to be a threat to this, along with Essex who, if they get wins in the next two matches, will bring themselves back into contention.
All things considered, this is the best time to be a professional cricketer, and where reputations and careers can be defined.
Generally there are more lows in a professional sportsperson's life, but they accentuate the highs.
The next four weeks are when the opportunity for those exhilarating highs materialise, and our goal will be to take them and reap the personal and team rewards at the end.
You can follow Stephen Moore on Twitter at: http://twitter.com/stephen_moore6 (external site) and you can also leave questions below for him to answer in future columns.