Weekend cricket results
Last updated on .From the section Cricket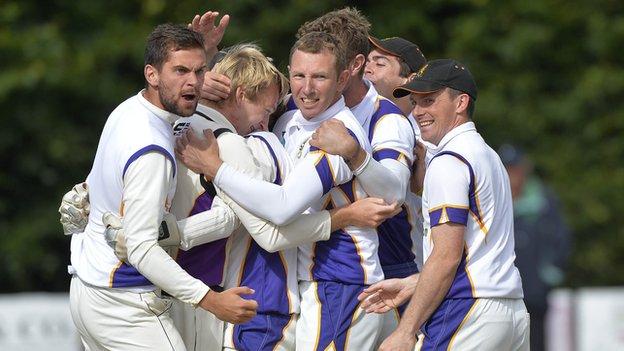 Sunday 1 September
Ulster Bank Premier League
CSNI 179 A Cowden 64, C McMorran 35, P Eakin 6-36
North Down 110 N Larkin 42, J Van der Merwe 4-24, C McMorran 2-6, N Jones 2-20
CSNI won by 69 runs so North Down miss out on a share of the championship. Instonians and Waringstown are the joint winners.
Saturday 31 August
Ulster Bank Premier League
Instonians v CSNI
Instonians 111 A White 42, A Coulter 3-20
CSNI 112-6. N Jones 55 no, B Wylie 3-39
CSNI won by four wickets
Lisburn v North Down
Lisburn 138 N Waller 40, R Haire 4-36, M Moreland 3-20
North Down. 143-5 A Shields 65
North Down won by five wickets
Waringstown v Lurgan
Lurgan 161 N Anderson 56
Waringstown 162-1 Kyle McCallan 66 no, J Hall 56 no
Waringstown won by nine wickets
Ballymena v CIYMS
Ballymena 234-6 D Kennedy 83, K Aphale 81
CIYMS 218 S McDowell 3-42
Ballymena won by 16 runs
Lurgan are relegated and will be replaced by Muckamore next season.
Long's Supervalu NW Premier League
Fox Lodge v Coleraine
Coleraine 217-8 Niall McDonnell 55 no, David Cooke 54 no
Fox Lodge 129 J Milligan 48, I Hussein 48, V Chopra 3-9
Coleraine won by 88 runs
Eglinton v Brigade
Eglinton 246-5 Christopher Pierce 90 no
Brigade 138 R Hepburn 38, G McKeegan 35
Eglinton won by 108 runs