Scotland: Preston Mommsen relishes Australia ODI clash
Last updated on .From the section Cricket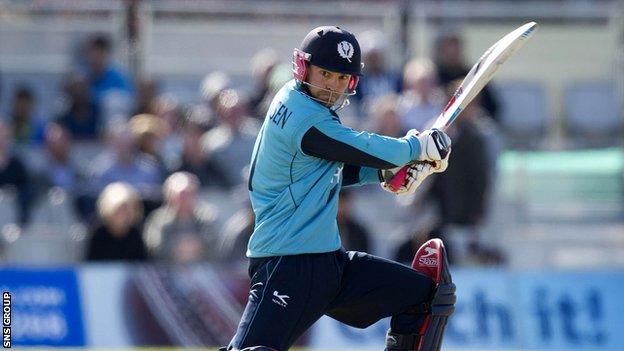 Stand-in skipper Preston Mommsen is urging Scotland to perform well against Australia after a disappointing summer.
Fresh from their Ashes defeat, the Aussies are in Edinburgh for a one-day international on Tuesday ahead of a five-match series against England.
The Scots failed to win a YB40 game in their last season in the contest.
But Mommsen said: "We need to be at 110% for 100 overs. That is the challenge we have set ourselves and I think we can do it."
Australia have dropped batsman David Warner, while bowler Mitchell Starc will also fly home due to an injured back.
And Scotland will need to improve on their last ODI meeting with a top-tier nation, having lost to Pakistan by 96 runs at The Grange in May, after restricting the visitors to 231-7.
Kyle Coezter top scored for the Scots on that occasion but a wrist injury has sidelined the Northants batsman, with Mommsen stepping up to lead the side.
Australia have already been in Edinburgh this year, with an A-team cruising to a 360-run win in a truncated four-day match.
On the visitors, Mommsen told Cricket Scotland website: "They are still a relatively new unit, with some pretty young players, and they don't know each other 100%, so this is probably a good time to be taking them on.
"We certainly don't underestimate the scale of the task which is facing us - they are still a world-class team, and they have some wonderfully talented individuals in their squad, and will be firm favourites.
"But we have analysed them, we believe we can cause them problems, and we will be going out with the attitude that these opportunities do not come along very often, so we have to grab it by the scruff of the neck.
"It is important we take the game to them, get the basics right, play the ball not the man when we are batting, and focus on achieved extended periods of quality cricket.
"A win would do wonders for everybody and would be the ideal preparation for the WCL fixtures. But we can't get ahead of ourselves. We have to concentrating on doing ourselves justice, because we are aware that hasn't always been the case during the rest of the summer.
"The bottom line is that we didn't play enough good cricket in the YB40 campaign and we paid the price for not producing our skills for the whole of these matches.
"We played some good cricket in patches, but we also served up some poor cricket, and the results speak for themselves. I am frustrated by that, and I know the other lads are as well. But this is an opportunity to put things right."