ICC lauds Irish cricket progress at Malahide sell-out clash
Last updated on .From the section Cricket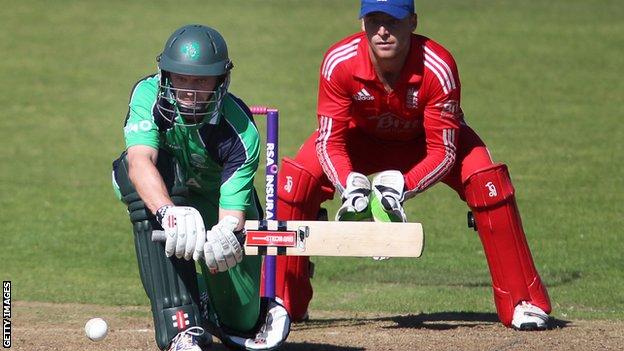 The International Cricket Council says the success of Tuesday's one-day international at Malahide was a "big step" for Irish cricket.
ICC global development manager Tim Anderson said he was impressed by Tuesday's occasion with over 10,000 watching the defeat by England.
"10,000 people in Dublin on a Tuesday afternoon suggests this is becoming a very serious cricket market," he said.
Cricket Ireland are aiming to secure Test status for the country by 2020.
Despite Ireland's six-wicket defeat after earlier appearing to have England in trouble, Cricket Ireland chief Warren Deutrom felt that there were many positives that could be taken from the country's biggest ever home game.
Deutrom acknowledged that the country was not yet in a position where it could "even ask the question" about Test status but added that he was pleased with continuing progress.
As he watched the contest in glorious sunshine at the redeveloped Malahide ground, ICC official Anderson described Ireland as "probably the most important associate nation".
"Having an event like today when we can get this number of people into a game of cricket in Ireland is a big step in saying to the ICC: 'There is a growing culture of cricket in this country'," he said.
"Continuing to perform well on the pitch when you have opportunities like this and opportunities to perform in World Cups and World Twenty20s (is important) as is having a very strong governance and administration.
"They are the best (associate nation) on the field and the only one we could see producing what they are producing today."
Anderson added that Ireland can hold out hope of having more opportunities to play against full member countries in the coming years.
"Full members struggle to play everyone (of the other full members) so moving that concept ahead is not easy but we are considering those options with our full members.
"Hopefully in the future, the regular structured opportunities could be available."
The ICC official said that Irish cricket's governance "is one of the best in world cricket and not just in the affiliate and associate countries".
"Cricket Ireland have a fantastic CEO in Warren Deutrom and a very good board and management team," he said.
Deutrom pointed out the presence of Irish President Michael D Higgins among the dignitaries at Tuesday's game as evidence of the increasing profile of the sport in the country.
"It's also about having that dream to be as good as we can be," added Deutrom.
"If our players are leaving us to go to England and chasing their Test dream then we always stand to lose our best players.
"We are not asking the (Test) question yet. We've set out by 2019 or 2020 that's where we're going to be.
"Two of the boxes that we hadn't ticked up until the last 18 months was about having a domestic three-day structure and having some form of tier between club and country, which is the Inter-Provincial structure we have introduced this year.
"And in terms of having a culture of cricket which is another of the criteria, what does that mean?
"I would suggest (it is) having 10,000 fans - at least half of whom are totally new to the sport - coming in to consume the game today and media from all over the UK and Ireland.
"We have 650 hospitality guests. We sold all our perimeter advertising. Corporate Ireland has bought into it. I'd say we're ticking the box to really embed or develop a culture of cricket in Ireland."