Jim Kenyon: Andrew Flintoff leads tributes to cricketing mentor
Last updated on .From the section Cricket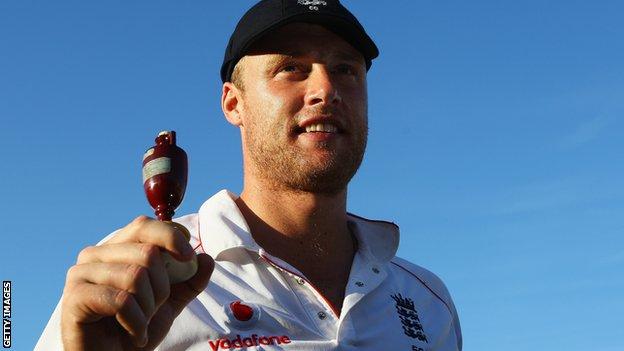 Ex-England captain Andrew Flintoff has led the tributes to his former junior coach Jim Kenyon, who has died aged 71.
Kenyon was a former player, coach and administrator, as well as a cricket reporter for BBC Radio Lancashire.
He was also secretary of the Lancashire Football Association for 43 years.
"Jim was someone who was integral to my career. I first met him at the age of about 12 and he helped me transform from a schoolboy cricketer into a senior player," said Flintoff.
The 35-year-old, who played 78 Tests for England and was part of the Ashes-winning sides of 2005 and 2009, continued: "As a coach, he was second to none.
"He helped me so much. His passion for the game was unbelievable, and he was just a great bloke."
Manchester-born former Yorkshire batsman Michael Vaughan, who played 82 Tests for his country, was another ex-England skipper to be helped by Kenyon during his junior career.
He added: "Jim was a tremendous character. There will be a lot of cricketers out there still playing, and others like me who have retired, who owe a great deal to people like Jim. He's a legend in Lancashire and he'll be greatly missed.
"I think one of my first interviews as England captain [in 2003] was with Jim. I got a text from him and I was on his show that night. He couldn't believe it, but he had that zest of energy that made you want to do things for him."
After playing football at semi-professional level and cricket in the Lancashire leagues, Kenyon became a key figure in grassroots sport in Lancashire as an administrator.
He combined his cricketing roles with his position at the LFA, joining the organisation in 1959 and being appointed secretary four years later.
In a statement, LFA chief executive David Burgess said: "Jim has to be remembered for all the skill and enthusiasm he brought to football and cricket in Lancashire. He will be sadly missed."
Kenyon also served as a director of Accrington Stanley from 2006 onwards.